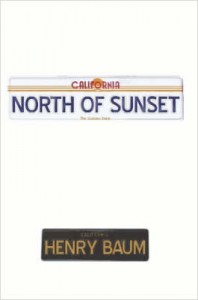 If there's an everyman, then Michael Sennet is every celebrity. Michael Sennet is a movie star. He should be happy, but he's bored. What does he do after he's achieved the best of everything: the best women, the best cars, the best homes, the best drugs? He doesn't have an answer. Meanwhile, the Vanity Plate Killer is roaming the streets of Los Angeles looking for new victims and dreaming of fame of his own. When Michael Sennet uses the M.O. of the Vanity Plate Killer, they find something that eclipses any starring role.
"North of Sunset would make a fast-paced, successful movie, but don't be fooled in thinking that Baum's work is a pumped up script, it's most definitely not. The narrative is a taut as a drum and the dialogue effortless, making North of Sunset a page-turner and an example of an effective piece of storytelling that should be envied." Dogmatika
"The writing is stellar….I think you'll agree it is not so much who influenced the writing; it is who this writing will influence. Trust me when I say that this book is one you buy and one you keep." Poddy Mouth
"Successful both as a suspenseful, engrossing thriller and as something more: a savage satire on aspects of modern American life in the vein of DeLillo's White Noise.…Overall, North of Sunset is an outstanding feat of storytelling that will gain a wide readership." Compulsive Reader
"The rare piece of literary fiction that successfully combines a thriller with a healthy dose of popular culture. As the 'Vanity Plate Killer' roams the streets in the novel, Baum's insights into fame, film, and writing are ever present and welcome." Largehearted Boy
"The best Hollywood novel I've ever read, including my own." Richard Rushfield, author of On Spec
Winner of the Hollywood Book Festival Grand Prize
Disclaimer: North of Sunset was written by the editor of the Self-Publishing Review and he didn't have the gall to write a review of his own book.