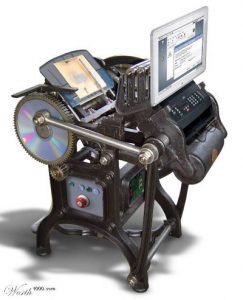 Creating a self-publishing imprint can reduce the stigma of self-releasing your own book.  Instead of having your book on one of the major self-publishing sites (Lulu, AuthorHouse), you can instead choose to print up your books independently under your own company brand.  Alternately, you could use a major self-publisher like Lulu to handle the printing and processing of your book and create your own separate imprint – possibly with its own website and list of authors.  A self-publishing imprint really depends on how it's marketed: as an independent entity or part of a larger self-publishing site.

Note: Technically, a publishing company prints up a book with a printer and an imprint publishes within a larger publishing house, but "imprint" is often used in both cases.
When you break it down, a lot of small publishers began as self-publishing imprints.  Take a press like City Lights – Lawrence Ferlinghetti chose to publish his friends (Allen Ginsberg's Howl) and himself.  Would anyone claim this to be a self-publishing house?  Not likely.  A small press like Another Sky began by printing the novel, Click, written by Kristopher Young, who's also an editor for the press.  When you visit Another Sky's website, it appears as a full-fledged independent publisher (which it is).
Many imprints have started by publishing authors within a tight circle.  What separates an imprint from a self-publisher is the number of other books on the site.  Though bringing on other writers is an added expense and work-load, it offers instant credibility to the press as being a complete publishing house, even if an author is the main editor.
Even if you do not immediately have other authors published by the imprint, having the stamp of an imprint can lend the book instant credibility, as the book will have the appearance of coming from a legitimate publisher.  Readers and reviewers alike cannot list the thousands of independent publishers, so they will not likely know that the book has been self-published – certainly not as easily as if the book is stamped with the logo for Lulu or Author House.
Really, most independent publishers are a step above self-publishing.  This is not the case with major independent publishers like Soft Skull Press or Graywolf Press – publishers of this caliber are big small publishers, which can more easily garner reviews.  It's often as difficult to be published by one of these publishers as at a major house.  There are hundreds of other smaller publishers that have as difficult a time getting reviews and interviews for books.  So even if you publish with one of these smaller independent presses, it will still be up to you to gather reviews and other press.  Creating an imprint can mean publishing your book immediately, learning about the marketing process, then potentially putting what you've learned towards publishing other writers.
How to Create a Self-Publishing Imprint
1.  Choose your printing method.  You can still publish with a major self-publishing house, but the type of cover you upload may depend on the type of package you order.  Some self-publishing companies may require their own logo listed, rather than your own imprint.  You need the ability to upload a completely original cover – not just a custom cover designed by the self-publishing company.
Select independent book printing: this is an option, not a prerequisite.  Printing up books ahead of time is more expensive than print on demand and requires storage and shipping yourself.
Some independent printers include:
Book Printing Revolution
RJ Book Printing
Easy Book Binding – at-home book binding (the SPR has yet to see this process in action so can't vouch for the quality)

2.  Create an imprint name and design a logo.  A custom logo maker like VistaPrint is an option for creating your publisher's logo.
3.  Create a website: Before selecting the name for your imprint you should obviously check if it already exists – a simple Google search will do.  You should also check with a domain registrar if the URL for your press has not been taken.  This URL should be separate from your author site.  Self-publishers often offer a web page – but normally this is housed within the publisher's site (such as Lulu's Storefront) so you want something that is entirely independent from the self-publishing company.  Again Vista Print can help with web design, incorporating your logo design into the web template.

4.  Have a marketing strategy in place.  This isn't just important for your own book, but for any other authors you might bring into the fold.  Read Christopher Meeks' guest post about setting up his self-publishing imprint, White Whisker Books.  It's a good summary of the steps you need to take to market a publishing imprint.