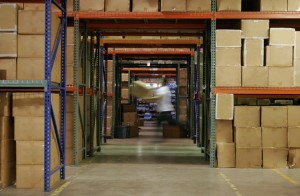 Book distribution is the main dividing line between self-publishing and publishing with a traditional publisher.  The Self-Publishing Review can talk all it wants about the merits of self-publishing – complete creative control, higher profits – but bookstore distribution is the main argument for publishing with a traditional press.  If you think about it, even small traditional presses cannot get into major chains, or even small independents, so self-published novels are even a further step behind. While people are increasingly buying books online, having a book in a brick and mortar store is a great advertisement – a customer may buy a book online but only after checking it out in person in store.
The main reason that bookstores won't carry self-published books is not necessarily snobbery, but because the bookstore has the potential to take a loss on the book.  Bookstores need the assurance that a publisher will buy back unsold books and this is not the case with print on demand copies.  It's possible to buy back print on demand books, but it will be for more than the bookstore bought the book, meaning you will take a loss on every book bought back.  Because self-published books are less likely to sell, due to less marketing muscle, most bookstores just aren't willing to take the chance.
But it's not impossible.  And this article will be about widespread distribution.  Any author can – and should – take books to every bookstore in town and sell them on a consignment basis – you're paid only when a book is sold, often for a pre-set priod.  Bookstores are amenable to local writers.  When it's a  bigger struggle is when the author does not have local appeal. Here are ways to sell to out of city, or out of state bookstores.
First you should think about a short print run, rather than printing on demand.  A print run will ensure a lower cost for each book – this means that you will be able to sell the books to each bookstore at a lower cost so you will be able to buy back unsold books.  Printing books yourself makes you a true publisher, allowing you to more accurately set prices.
Have a marketing plan in place before pitching to bookstores.  A bookstore wants some assurance that books will sell.  An aggressive marketing campaign – including offline marketing, such as radio – is important.  Your book cover design will also play a part in a bookstore buyer taking the book seriously.
It's possible to contact book distributors about distributing your book, but not the larger book distributors.  For instance, a major small-press distributor like Consortium will only take on a book if it's part of a press with an established catalog.  In this way, distributors are mostly interested in distributing publishers, not in individual books, so don't count on an individual title being distributed.  Distributors will also take a fair chunk of the royalties for each book sold and even charge for storage and shipping, in addition to the 55% discount on each book.
List of Book Distributors
The main thing governing book distribution is money: do you have the money to afford a print run and marketing plan, rather than go more bare-bones with print on demand.  Check Book Printing Revolution for good prices on book printing and then contact these distributors about potentially distributing your book through normal distribution channels – each link goes to the book distributor's FAQ page about distribution:
One of the reasons that you self-published may have been to avoid the process of querying to agents and editors – or else you've been through the ringer and you decided to self-release after the book didn't have initial takers.  Well, submitting a book for consideration to distributors is not a very different process – you need a good query, based on previous sales and projections of future sales, if you hope to land distribution with one of the major outlets.  So the querying process is not over – but this stage emphasizes the "publisher" in self-publisher.  Mill City Press is a self-publisher that will submit a distribution proposal to the major chains – no guarantee that this will work, but this is more thorough than most self-publishers.
Note: it is a good idea to get references regarding distributors before signing a distribution deal.  One of the major complaints about distributors is late payment or lack of payment.  Distributors can even go out of business, taking your profits with them.  So check with the Better Business Bureau and any chatter online about people's praise or complaints regarding a particular distributor.  Unfortunately, the distributors that are most likely to take on single titles – i.e. self-published one-off books – are also those distributors with greater complaints.