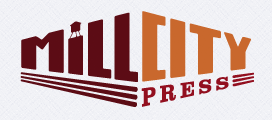 The first thing you notice about Mill City Press is the quality of the website.  It has a matte-quality similar to book covers of contemporary fiction – and something that most self-publishers do not offer, as most publishers only offer glossy covers.  So Mill City's website has the appearance of a traditional publisher, not a print on demand house.  Mill City Press just sounds like a traditional publisher.  One of the things we point out here in publisher reviews is that the less well-known self-publishers can actually pass for a legitimate publisher, unlike the major self-publishers like Lulu, iUniverse, and AuthorHouse.
Aside from outward appearance, what does Mill City offer?  In their description they're honest about the marketing prospects of self-published novels –
Reviews are nice, but getting them from reviewers who matter (like the New York Times, etc.) is next to impossible. If you'd rather spend your time and money securing one great review instead of driving already interested internet surfers to your book's sales page, you can still publish with us (our publishing packages are the best value around), but you won't get the full value of what we can offer.
Instead Mill City Press promises to use "viral public relations" to generate interest in your book.  So you can think of Mill City Press as self-publishing meets Web 2.0.  To promote a book, Mill City offers two different plans: a 30-day publicity program and 60-day publicity program.
In each program, Mill City will promote the book in viral networks and other new media.  Their basic M.O. is to treat a book no differently than a website – and this is the right stance to take.  Given that the majority of POD book-buyers will purchase the book online, the idea is to get as many links to your book as possible.  While you can spend a lot of time and energy trying to lock down print and web reviews for a novel, Mill City's basic premise is that your time would be better spend generating incoming links to your book's page.  That's a reasonable premise.  The publicity package includes
An overall PR plan based on the book's market, including working directly with a publicist.
Generation of a podcast and downloadable ebook
Press kit creation, including press release writing and distribution
Pitching your book to new media contacts
Solicitation of reviews – Mill City doesn't totally ignore the importance of reviews, just does not emphasize them as the most important marketing tactic.  Includes guaranteed mention in literary blogs.
Creating viral network profiles for your site.  There are literally hundreds of possible viral networks where you could make a profile.
Is all this necessary?  Well, really much of what you'll find in the list is stuff you could do yourself.  It doesn't cost you anything but time to start social network profiles and to participate in those networks.  But that's often the case with hiring a publicist – they're doing the legwork so you don't have to.  And for many people, that list of marketing features would be too-heavy a workload.  But not only that, you can have better results submitting marketing materials through a press – yes, even a self-publishing house – rather than independently through an author's account.  So letterhead or an email from Mill City Press is much more professional and effective than an author asking for a review or mention.  Really, this is no different than being on a traditional press.
Other Features of Mill City Press
In addition to marketing, which is their major selling point, Mill City Press books just look better.  Go to the site and scroll through some of their covers.  They have the modern appearance of novels on a traditional press.  Mill City Press will also submit your book to book buyers at the major chain bookstores.  There is no guarantee that Border's will buy your book, just as there's no guarantee that marketing efforts will automatically lead to book sales, but this is a significant step better than other self-publishers.  Mill City allows for book returns, which is the main stumbling block for brick and mortar bookstore distribution.  Finally, a major selling point is that authors keep 100% of the royalties above wholesale printing costs.
It sounds fairly ideal, but you do pay for these features.  The most advanced package is $3,798, which is sizable.  But you do get a fair number of features that you don't get with other self-publishing, making it sort of self-publishing and ½.  It's not quite traditional publishing, but it's better than packages offered by other self-publishers.