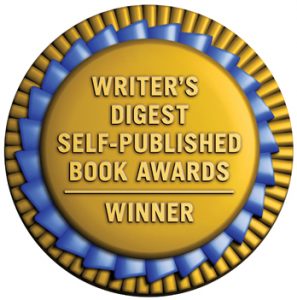 Some make the argument that book contests are a way to rip off writers. Authors submit a book and a fee for the hopes of winning the contest and the grand prize, usually a sum of money. The majority of writers will receive nothing from the contest and be out the $50-$100 it normally costs to enter the contest. Meanwhile the contest promoters are making tens of thousands of dollars in application fees.
Perhaps I am biased because I actually won one of these contests – the Hollywood Book Festival – but I do not regard contests as a way of taking advantage of writers. This is especially true for self-published writers, who need to be a bit more inventive in how they promote a book. Being able to stamp on "Winner of" or even "Finalist in" a particular contest can make the book stand out from the thousands of other self-published books released every year.  The awards can have significant first prizes as well – in some cases many thousands of dollars or unique marketing packages.  The Hollywood Book Festival awards dinner took place at a nice restaurant in Los Angeles, which included a reading by famed groupie Pamela Des Barres.  I met a number of other writers and was handed this fabulous trophy: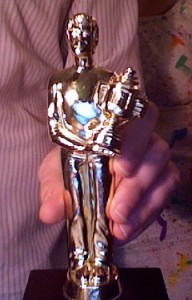 I was also handed a check for $1500. It has since expanded to a week-long stay at the Larimar St. Croix Writer's Colony in the U.S. Virgin Islands.  All around it was a fun time and a good experience – and would still have been worthwhile even if I hadn't won the award.
For self-publishers, there are a number of different contests and you need to pick wisely. If you were to enter every contest, you'd be paying hundreds of dollars in entrance fees. Some may want to put that money towards other marketing efforts – such as advertising, or even just printing up more review copies. But if you can afford the entrance fee, book awards provide another way to promote a book, which can be far more effective than reviews.
The awards listed here are self-publishing friendly. There are other book awards that may accept self-published works, but when competing with more traditionally published works it is less likely for a self-published book to win.
The Ippy Awards: The "IPPY" Awards were conceived as a broad-based, unaffiliated awards program open to all members of the independent publishing industry, and are open to authors and publishers worldwide who produce books written in English and intended for the North American market.
Axiom Business Book Awards: Authors and publishers throughout North America and overseas publishers who publish English-language books intended for the American market may enter. Print-On-Demand and other independent authors are welcome to enter their books themselves.
Moonbeam Book Awards: This exciting new book awards program is accepting entries until August 22nd, 2009 for books with 2008 or 2009 copyrights or that were released in 2008 or 2009, and is open to authors, illustrators, and publishers of children's books written in English or Spanish and intended for the North American market.
Living Now Award: Candidates for the Living Now Book Awards are books written and designed to help shape our lives through creative ideas and time saving tips.
ForeWord Magazine Book of the Year: ForeWord Magazine's Book of the Year Awards were established to bring increased attention to librarians and booksellers of the literary and graphic achievements of independent publishers and their authors.
Writers-Editors Network International Writing Competition: The contest is open to all writers. You do not have to be a member of Writers-Editors Network. However, members do save up to 50% on entry fees.
Eric Hoffer Award: Two grand prizes are awarded annually: one for short prose (i.e. fiction and creative nonfiction) and one for independent books from small, micro, and academic presses, as well as self-published books.
Writer's Digest Self-Published Competition: Whether you're a professional writer, part-time freelancer, or a self-starting student, here's your chance to enter the only competition exclusively for self-published books. One Grand Prize winner will be awarded $3,000 cash and promotion in Writer's Digest and Publishers Weekly.
DIY Convention: Home to the Green Book Festival, San Francisco Book Festival, Beach Book Festival, New York Book Festival, and Hollywood Book Festival.
National Indie Excellence Awards: The National Indie Excellence® 2009 competition presents a wonderful opportunity for all independent publishers seeking more recognition for their fine work. Grand prize: the nation's largest and oldest book promoter will provide a customized media campaign valued at $4,200
The International Print on Demand Book Award: A book award run by the print on demand review blog, Podler.
Readers Favorite Awards: The site also offers video trailers, book reviews, editorial help, and other services.