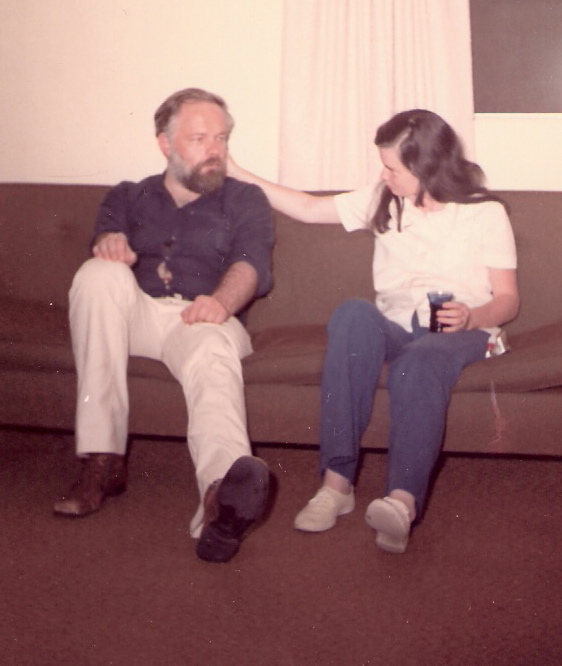 An interview with Tessa Dick, last wife of Philip K. Dick, who has reworked the novel he was working on at the time of his death in 1982, The Owl in Daylight – reviewed by SPR.  She blogs at It's a Philip K. Dick World!

Self-Publishing Review: You were married to Philip K. Dick between 1973 and 1977.  How did you two meet?

Tessa Dick: Phil's lady friend at the time, Ginger, was breaking up with him.  Phil was clinging to her, so she decided to introduce him to someone else at a beach party on the 4th of July weekend in 1972.  She did not intend to introduce to me, but it worked out that way.

SPR: You were married when Philip K. Dick had his infamous visionary experience on 2-3-74.  What was it like living with him during this period?  Was he constantly writing his Exegesis and talking about how "the empire never ended" or was he the same person you knew?
TD: Phil constantly discussed his visionary experience and his multiple interpretations of it.  On the other hand, he was closely involved in raising our young son and handling all the little cares of daily life.  It was as if he were two or three different people.  He especially enjoyed having people come over to visit, whether they were fans of his or just friends who didn't read his books.
SPR: I've read that you played a part in the writing of A Scanner Darkly.  What was that experience like?
TD: Writing A Scanner Darkly was a learning experience for me.  My primary contribution was making coffee and sandwiches, but I read each page of Scanner as it came out of the typewriter and I did a lot of copy editing.  Also, one scene is mine:  I came up with the idea of having him see nothing but dog feces when he opened the hood of his car.
I also helped Phil with much of his later work, including the VALIS trilogy, even after he insulted me when he based the character Beth on me.
When I met Phil, I was already a published writer of nonfiction, but I had much to learn about crafting a novel.  I needed to find out what it is that makes readers turn the pages and keep on reading.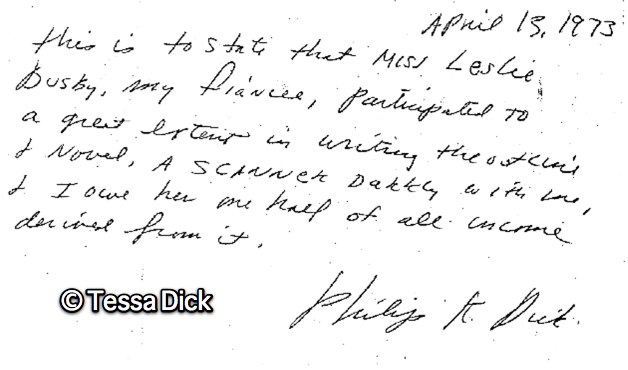 SPR: I'm very curious about the genesis of this novel.  The book is called The Owl in Daylight, which is the title of the novel PK Dick was working on at the time of his death.  The major plot elements thought to be a part of his book are there: the B-movie composer, the alien bio-chip, references to Dante's Inferno.  Is any of your Owl in Daylight Dick's own writing or were you writing what he might have done?  How did this process work?
TD: Thank you for asking.
I started writing The Owl in Daylight when some of Phil's loyal readers begged me to write it.  I had (somewhat foolishly) posted a comment on a blog about the Owl that I knew the story and could write it.  This was followed by pleas that I do so at once.  I attempted to express the spirit of Phil's proposed novel, without using his plot or the one character that he had created.
Phil had written very little about this novel.  In fact, all that has been found is a letter that he wrote to his editor and his agent (same letter, two copies).  It was very sketchy and did not even name any characters.  It did mention Dante's Inferno and the Faust legend.
I did not use Phil's ideas as he expressed them in that letter to his editor and his agent.  He was going to have a great scientist design and build a computer system and then get trapped in its virtual reality.  The computer would be so advanced that it developed human-like intelligence and rebelled against its frivolous purpose of managing a theme park.  In the conversations that we had shortly before Phil's death, I couldn't convince him that a computer system would have to be designed and built by a team of experts in different fields, such as one expert in graphics, another in animation, one for hardware, one for software and so forth.
I have read that Doris Sauter published an alternate plot involving a musician and aliens, but I did not read her book and did not use her ideas.  Someone told me that the name she had for the main character was similar to the name that I gave him, but that is mere coincidence.  I named him Arthur, Art for short, because he is an artist.  I made his last name Grimley because he is in a grim situation.

The Owl in Daylight is my concept of what Phil's novel should be.  I relied heavily on Mozart's opera The Magic Flute.  The plot is loosely based on Phil's life, which will become more apparent in the sequel, The Owl in Twilight.
Sometimes I do feel that Phil is communicating with me from beyond the grave, but that concept is too spooky for me to accept completely.  It's probably just that I knew him so well that I can think the way he did.
Our approaches to writing fiction are quite different.  Phil used to come up with a concept, create a fictional world based upon that concept and then insert characters into that world.  I start with characters who have stories to tell, and then I create a fictional world where they can tell their stories.

SPR: Are there any legal ramifications of using PK Dick's title?  I've read Philip K. Dick is Dead, Alas, by Michael Bishop, which also uses Philip K. Dick's likeness, but perhaps a title is different.
TD: Many people have used Phil's name and his titles.  For example, we have UBIK software, the opera VALIS, a popular song titled "The Owl in Daylight" (I don't know which genre it fits into, maybe acid rock or heavy metal?), two or three sequels to Bladerunner written by K.W. Jeter, Phil appearing as a character in many novels (most notably Tom Disch's final work before his death), and so forth.
SPR: There's also a movie to be released called "The Owl in Daylight" – a
biopic about Philip K. Dick – to be played by Paul Giamatti.  What do you know about the movie?
TD: Someone from the movie production company interviewed me for about half an hour a couple years ago, but I really didn't learn anything about the proposed biopic.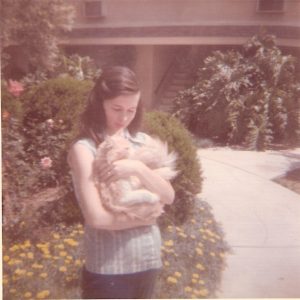 SPR: How much of the lead characters, Arthur Grimley and Tony, are Philip K. Dick directly?  All the stuff about writing and submitting stories seems very true to his life.
TD: Arthur Grimley is a Philip K. Dick character, not Phil himself.  He is like the main character in Flow My Tears, the Policeman Said (sorry, I'm blank on the character's name).  Tony is more like the young Phil Dick, an aspiring writer who loves music and wants to get married and have a family.
SPR: The character in Owl is a b-movie composer.  In the posthumously published Radio Free Albemuth, the lead character is a record store clerk and record executive.  What was Philip K. Dick's relationship to music?
TD: Phil loved music.  His first job was as a clerk in a record store (Art Music).  He loved classical music first, but in the 1960s he discovered rock and roll.  At one time he played a triangle in an ensemble put together by the avant-garde composer Harry Parch.  He had an extensive record collection (on 33 1/3 LP vinyl disks), and he had the best stereo system that he could afford.  He played music albums all day long, and he listened to soft popular music on his bedside radio.
He knew a great deal about the classical composers, not only the "three Bs", but many lesser known artists.  He loved John Dowland's lute songs, Monteverdi's madrigals, German opera (especially Wagner's Ring trilogy, Parsifal and Sigfried), Bach cantatas and fugues, the list goes on and on.  He also loved Jimi Hendrix, Janis Joplin, the Rolling Stones, Jefferson Airplane/Starship, Elton John, Kiki Dee, Pat Benatar, Rita Coolidge and many more.
Phil wanted to compose music, but he put most of his energies into his writing. He said that one of the record companies offered him a job in A&R (artists and repertoire), where he would help to choose new  talent and new songs, but his growing phobias made him afraid to deal with people.  His phobias eventually forced him to stop working at the record store and to depend upon his writing to pay the bills.
SPR: Why did you self-publish?  Given Philip K. Dick's gigantic fan base, it would seem there would be interest from at least small publishers.  Did you try to get it published traditionally?
TD: I have tried submitting my novels to traditional publishers, but lately they haven't shown much interest.  While Phil was alive, and for about a decade after his death, they were willing to read my manuscripts and consider them, but since my step-daughter took over the Trust, they have not wanted to read them.  I don't want to sound paranoid, but what editor would risk losing the opportunity to publish a Philip K. Dick novel, just to take a chance on one of mine?
I suppose that I should expect some rancor in the extended family because I was so much younger than Phil when we got married, but that is ancient history. When we met, he was divorced, I was single and we did nothing wrong.
Donald A Wollheim (DAW) and Del Rey were especially helpful years ago, but now I don't even get a nibble from any publisher.  My earlier works had a major problem because they were episodic.  While the ancient stories such as Icelandic sagas and other hero tales were episodic and still quite popular, modern readers demand more tension and anticipation from a work of fiction.  I learned how to create transitions, tension and anticipation in a novel by studying essay writing, so my current work is much better. I was able to put out half a dozen books in one year because my early manuscripts were sitting in a box, waiting to be fixed.  I'm especially proud of my novel Origins, the first part of a trilogy based on a combination of fringe science (astronomy) and religious tradition about our ancient past.
I have been writing since I was a child, and I have made a living with my writing.  My stories and poems have won awards.  I was an editor at a small press, and I taught many writing classes at Chapman University.  I have tutored hundreds of students, many of whom came to this country to learn English.  I also have a  murder mystery entered in the Amazon Breakthrough Novel Award (ABNA).  Wish me luck!

SPR: Good luck!  You're definitely in a much better position than other self-publishers because of name recognition.  Are you going to do a lot of promotion for the book?  Are you in touch with people from the science fiction community?
TD: I'm pretty much out of touch, but I do have some contact with SF readers.  I post on my blog, and I post comments on other people's blogs.
My resources are limited because I was disabled in a car crash almost two years ago, and I haven't received anything from the insurance.  My application for disability benefits is being processed, but I could die of old age while waiting for that.
I publish my books through CreateSpace because they never charge me a penny.  The only thing that I ever have to buy is one proof copy, so I can make sure that the book looks right before it gets listed on Amazon.
SPR: Really sorry to hear that.  Given the interest in Philip K. Dick, and the book being a great read, chances are this book's going to get a lot of attention.  Thanks so much for sitting down with us.  Any final words you want to impart about your intentions for the book and how this novel fits into Philip K. Dick's literary legacy?
TD: Thank you for the opportunity to talk with you.
The Owl in Daylight is my tribute to my husband.  I attempted to recreate the masterpiece that he had in mind, even though he left few clues about the story.  As with VALIS and other later works, the plot loosely follows his own life.  I hope that I have captured the spirit of the Owl as Phil would have written it, if his life had not been cut short by a massive stroke.

SPR: Thanks a lot, Tessa.  Good luck with everything.