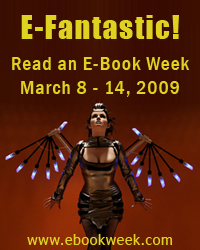 Happy Read an Ebook Week.  Really, this thing couldn't have come at a better time, as ebooks are reaching critical mass in terms of the amount of coverage ebooks have been getting in the news.  And it seems like we've seriously turned a corner in terms of the amount of positive news ebooks are receiving, as well as the state of print media in general.
The Atlantic recently ran a piece titled End Times about the fate of the New York Times, suggesting its demise could be imminent.  What is most interesting about the thrust of the article is not that it's lamenting the demise of print media, but merely reporting it, and even suggesting its demise isn't the end of the world: "as behaviors change, paradigms shift, and the digital future heaves fully into view."
So ebooks are not just a current fad, they're the future of publishing for a variety of mediums.  Much like blogging has totally changed online journalism, so too will the ebook change publishing.  The Atlantic article says how the Huffington Post is the model of how the NY Times and Washington Post will likely operate.  By the same token, the Kindle is setting the stage for how ebooks are read and distributed.
It wasn't that long ago, in the pre-blog era, when people were saying that ebooks would never catch on.  Ebook aficionados said, just wait, probably getting a little doubtful and impatient themselves, and now the time of the ebook has arrived.  We've basically reached the front door because until there are as many people using ebooks as using iPods, it's still a prospect and not a reality, but that reality is a virtual inevitability.
There are casualties, of course.  If indie bookstores were already struggling against the behemoths of Barnes and Noble and Border's, how will they fare when an even greater percentage of purchases are made online?  No paradigm shift is without its casualties, but by and large the rise of ebooks is a good development.
So what do you get with Read an Ebook Week, rather than a chance to read more articles about the proliferation of ebooks?  It's not just about ebook awareness and ebook solidarity ("Read an E-Book Week is a not-for-profit week set aside to inform the public about the pleasures and advantages of reading electronically"), a number of ebook companies are actually giving away ebooks for free or for a significant discount.  So now's the time to get yourself an ebook download, even if you don't yet own a copy of an e-reader.
So what will you be reading?  Me, I'll be reading, Prelude to a Super Airplane, to be reviewed here soon.