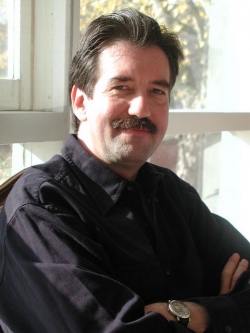 Christopher Meeks has published three books via Lulu: The Middle-Aged Man and the Sea, Months and Seasons, and a play, Who Lives? His first novel, The Brightest Moon of the Century, was just released to stellar reviews, including one from the Self-Publishing Review.
Self-Publishing Review: The Brightest Moon of the Century has its origin in a story in Months and Seasons.  Why was this the character you chose to write a longer work of fiction about?
Christopher Meeks: I'd already written a few drafts of The Brightest Moon of the Century by the point I had turned to write Months and Seasons. When I was working with my editor on Months and Seasons, she said one of my stories wasn't to the level of the others. I understood her points about it, and I removed the story. Thus I had a space. Sometimes music albums have a bonus track, and I decided a book could have the same thing—an extra piece at the end, not part of the whole. I also thought it was a good way to try out of piece of The Brightest Moon of the Century.
Many reviewers mentioned that story, "The Hand," favorably, which led me to publish the book now rather than later.
SPR: How much of the character is you?  And I don't mean that figuratively, I mean literally: how much is your actual experience?  Did you ever work in a trailer park in Alabama?
CM: This book will be the most autobiographical one I'll ever do. I chewed through the landscape of my life, especially those early years of growing up in Minnesota, college at the University of Denver, a camera store, and, yes, a trailer park in Alabama where I had moved with a friend. He now refers to himself as Sagebrush, a name I'd made up for the novel.
I take Tim O'Brien's idea of story, which he explains in his book, The Things They Carried. He notes the difference between "happening truth," which is the way things happened in life, and "story truth," which is how you the author change things, often molding things to get to the deeper truth of how things had really felt. Thus, my mother did not die (she's still alive), and the father in the novel is more an amalgam of my father, George, and my stepfather, Phil.  Still, all of us feel lonely at one time or another, so making that clearer for Edward was important.
While I experienced Hurricane Frederick in 1979, no tornados ripped through the park, nor did an airplane crash into my trailer.  It seemed darkly funny to me, however, to have those things happen. Trailer parks seem to be magnets for natural disasters.

SPR: OK, now figuratively, how much of you is in Edward?
CM: I'm invested in all the characters. I'd like to think of myself not as clueless as Edward was in those early years, but I did feel like a hearty weed in high school, and everything Edward felt, I've experienced at one time or another. You'll probably have to ask my friends or wife how much I'm like Edward.
This novel was a huge experiment for me. I had an agent interested in representing me, but he kept saying, "Write a novel." I was trying to convince him of his taking my manuscript of The Middle-Aged Man and the Sea to publishers. He said, "No. There's no money in short fiction. Write a novel." A novel was simply too intimidating to me. I'd written a bad one in grad school, and so I learned first hand what a wild horse the form can be. It's hard to control or even see. Still, I felt so close to landing an agent that maybe I should give a novel a try again.
What to write about? My first novel, my grad school doorstop, focused on a fifty-five-year-old astronomer/astronaut who lived in Birmingham, Alabama and had a teenage daughter. I launched him onto a space station that had something like the Hubble telescope, and when he can't get a hold of his daughter at home, he swings the telescope around to see her being attacked on the front lawn.
Hey, it sounded cool, but I was twenty-nine at the time, single, childless, and certainly not an astronomer. I didn't really know how he felt. I learned the hard way: write about what you know. Thus, for a new novel, my early years seemed so funny that I thought I'd start there.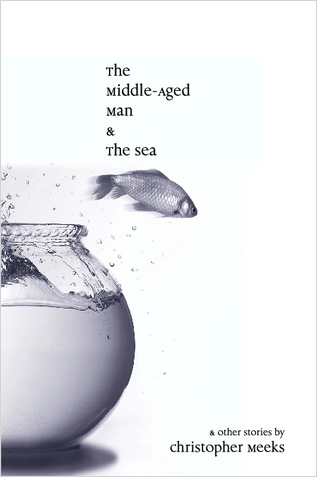 SPR: You've published two books of short stories and this is your first novel.  How different was the process of writing a novel compared to short stories?  Did you set this up as short pieces of his life so in a sense it was a book of short stories about a character?  Certainly this reads like a novel, but the structure is somewhat short-story like, in that you can put the book down each chapter and discover a totally new character, as Edward ages significantly section by section.
CM: Once I decided to write a novel and came up with a starting point, I stopped. The task felt like climbing Mt. Everest while being afraid of heights and having only a few tools. When I mentioned to a writer friend my fears, he said, "Write each chapter as a short story. You know how to write those. Just keep the same protagonist in each. You'll do fine."
I smiled. That seemed easy enough.  When I finished three chapters—separate stories—I sent them to the agent, who was impressed. He said if I kept it up, I'd have a novel that he could represent. He suggested the idea of writing the year at the start of each chapter.
That's the way the first draft came about, as separate stories, but a few of the chapters felt too short, too incomplete, such as the one in Alabama. Hence I added another part to it, and then another. A few other chapters came out that way. Also, I didn't want this to be another short story collection, and as I worked on it more, I added foreshadowing, an important ingredient in novels that's hard to include in a first draft. You have to know your story well before you can foreshadow, so that's something that comes later.
When I finished the next draft of the novel, the one I gave to the agent, it was a hundred pages longer than it is now. He signed me on, loving the writing, but felt the book was probably too long for most publishing houses.
SPR: You're a writing teacher at UCLA and USC.  It would seem that you have connections to other writers and possibly have an inroad to getting an agent/editor and going the traditional route.  Why did you self-publish this novel?
CM: Again, it had to do with my first agent, who didn't like me calling him once a month to find out the latest news on the novel. After two or three such calls, he said a first novel takes a year or more to place, so to please let him do the work and don't bug him. No calls about the novel. I was too anxious NOT to call him, so I started another novel. It kept me busy. This time, I did not write each chapter as a short story. I'd been teaching Harry Potter and the Sorcerer's Stone in my children's lit classes, and I'm taken by J.K. Rowling's books. There's a reason people stand in line for a day for them. She tells a good story. So my next book involves a shorter time span with some chapters that end with a hook. You have to go to the next chapter.
It took me a year to write a draft, and when I called up the agent to tell him about this new novel and to find out where the other one was at, he admitted to not sending the first novel out. Apparently, he'd forgotten. Heck, I wasn't bugging him—so there's a parable there.  Long story short, I decided to get a new agent, and I have one in New York.
So why did I publish this through my company, White Whisker Books? It's because my new agent, Jim McCarthy, loved my second and third novels (yes, I can't be stopped now—I'm onto a fourth novel, too) and he had his hands full with those two. That meant my first two books would have had to be published before it was likely I'd get a publisher to work with The Brightest Moon of the Century. Additionally, Jim read a draft of this novel and thought it was too long.
Let me pause here to say the traditional route has its own challenges. One is that it takes an average of two years for a book to go from being accepted by a publisher to being on store shelves. The second is in getting a publisher to accept a novel if you're not well known. In this economy, editors are accepting far fewer novels, says Jim.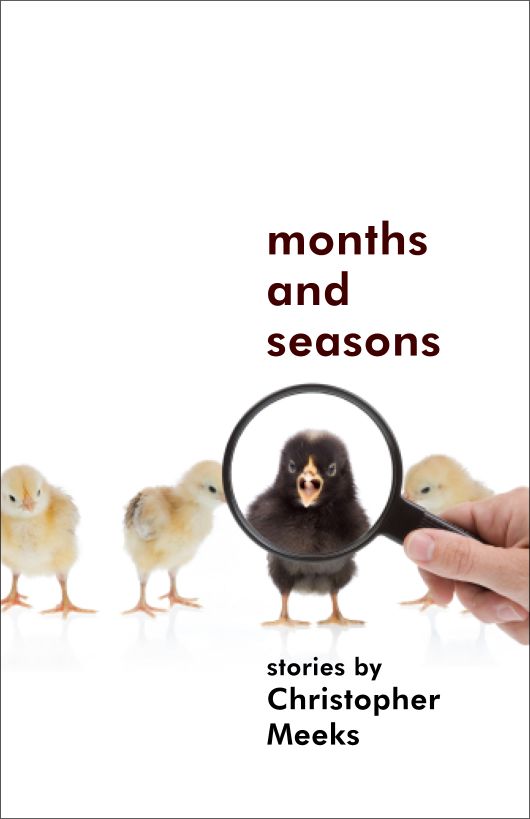 This takes us to last year. My second short story collection Months and Seasons came out, and it's received over two dozen positive—sometimes long and introspective—reviews. Several mentioned the chapter "The Hand." It occurred to me that at best, my next book of fiction wouldn't be out for at least two years, and The Brightest Moon of the Century not out for maybe five. Thus, I published it now for two reasons: to get it out while I was still healthy (knock on wood) and to keep my name out in the publishing world. There are a number of reviewers who like my work, so I wanted to keep their interest.
Once I decided to publish The Brightest Moon of the Century, I soon found out that long books are more expensive to produce. I was ruthless and read the manuscript with an eye for what did I really need? Two chapters came out, as did paragraphs here and there. I worked with my editor, Nomi Isak Kleinmuntz, to shorten it more, and the book's a hundred pages less and better for it.
Critical is the right cover. I bless my designer, Daniel Will-Harris, (www.will-harris.com), who has also produced the cover for Lafitt by Madelyn Cain, who has taken a similar route as I have and her biography is selling well even before her publication date.
I created White Whisker Books just for my short fiction. I'd worked as a senior editor for a book publisher for five years, and I'd learned every aspect of publishing, from first draft, to cover blurbs, to all the press releases and marketing that went on. I'd also worked in a publicity office for a dozen years. This is valuable experience, and I'd decided I could start my own small company. Digital printing makes it affordable, so I decided to publish my novel through the company.
I've learned many things. One is that there aren't enough hours in the day for marketing. One can't do enough marketing and publicity. I also don't have the marketing muscle that bigger publishers have. I'd love to work with a larger publisher that can take over much of the business side to let me write more fiction.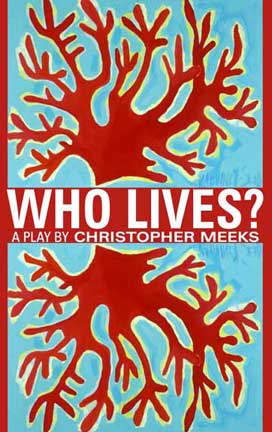 That's actually happening now with my play, Who Lives?, which White Whisker Books published two years ago. The book landed in the right hands, and it's being directed, acted, designed, and promoted all without my involvement beyond attending rehearsals. Go to www.wholivesplay.com to get a sense of what's being done.
SPR: Your other books have come out via Lulu.  This one does not.  How's the publication process differed with this book?
CM: This is a huge question, and authors who are considering self-publishing need to realize their options. There are five options, the way I see it.
The biggest hurdle to any of the options is first writing a really good book. Too many people rush their books off to agents or into print via self-publishing before the books are ready. Be obsessive. Write a great book. Then you have these choices:
1) Go the traditional route and entice an agent with a query letter and sample pages. An interested agent will then read your manuscript, and if it's great, he or she will sign you for representation. Your agent will go to editors at publishing houses to get you a contract.
2) At the other end of the spectrum, you can take your Microsoft Word file to an online do-it-yourself place like Lulu where you're guided through book design and more, and your book is published-on-demand. That is, when people order it, mainly at Amazon and a few online stores, a copy will be printed. Lulu charges no upfront fees, but if you don't work with a book designer, your book will likely look rather simple, even amateurish. If you don't work with an editor, it will definitely be amateurish.
3) You can go to a "let us help you" online publisher like iUniverse where you pay a fee upfront to have book designers, editors, and others usher you through the process of publishing for a possibly polished outcome. iUniverse also offers a profit-sharing deal for books that it considers as particularly promising, providing extra attention and marketing to bookstores.
4) You can go to a vanity press, which also offers an array of editing and design services, but instead of your books being printed on demand, they are printed on an offset press—more like a traditional publisher—and you get to store hundreds if not thousands of books in your garage. You have to find a way to distribute your book. This was popular before print-on-demand came along.
5) You can start your own small publishing company and hire the right editor, book designer, publicist, copywriter (for press releases and back-cover information), video director (for the YouTube trailer), printer, distributor, and more.
This may have come up on this website already, but certain words are being used incorrectly. Print-on-demand (POD) has taken on the connotation of vanity publishing, but POD is a process, not a style of book. High-end digital printers can print one book at a time, with a cover and cut to size. Big publishers are using digital printing now.  It allows big publishers to keep a book in print without having to store copies on shelves. A well-designed book printed digitally is high-quality.
I've gone with option #5, where I wear a few of the hats and contract for the rest. If the video thing made you curious, here it is:
Now to get to your question. I set up White Whisker Books at Lulu originally. You can have your own "storefront" there, and nothing on your book has to say "Lulu" if you don't want it to. Lulu can simply be your book printer and distributor, which is what I made it. It worked wonderfully well.
After my book The Middle-Aged Man and the Sea—and your book, North of Sunset, Henry—were mentioned together in Entertainment Weekly, I discovered the weak link to the Lulu system. The distribution and fees basically preclude bookstores from stocking Lulu's books and most POD books. Our books didn't make it into bookstores. That's because bookstores need two main things: a 40% discount and the ability to return the book if it doesn't sell. POD books, printed one at a time, are not meant to be returned. There also usually isn't enough of a profit margin to offer a 40% discount to bookstores.
I called the corporate offices of Barnes and Noble a while back and learned that my books are on their computers but, at the time, they were notated as "short discount." Books that are "short discount" cannot be stocked in Barnes and Noble stores.  I asked specifically what that meant.  The woman I spoke to said, "For The Middle-Aged Man and the Sea, we only get a 15% discount."
I was astounded because I thought there was plenty of room for a discount. I contacted Lulu and discovered that Lulu doesn't have control over what discounts distributors offer bookstores.
I've also learned without bookstores, a book isn't likely to do well, even with lots of publicity. A huge percentage of people do not buy books online.
Thus, I had to find a better option. I now use Lightning Source to print my books, which are then distributed by Ingram, the largest book distributor in America. Lightning Source offers returnability, and its prices and pricing structure is such that it can guarantee at 55% discount to Ingram, which then guarantees at 40% discount to bookstores. Thus my short story collections and The Brightest Moon of the Century are now listed on Barnes and Noble computers as a retail discount and returnable—meaning bookstores can stock my book. Lightning Source is not a "let's guide you" place like Lulu. It's designed for publishers. Thus, it's probably too intimidating for most authors.
This all does not mean bookstores will stock my book. There are so many hurdles in doing-it-yourself, including getting book reviews and noticed by the book industry papers, such as Publisher's Weekly, Kirkus, ForeWord and Booklist. I haven't overcome all the hurdles yet. I'm also working on getting the colleges where I teach, such as CalArts, USC, Santa Monica College, and the Art Center College of Design to stock my books. It'll happen.
SPR: Are you promoting it any differently than your past books?
CM: One particularly great outcome of my short story collections is that they've received many great reviews. (If you want to see some of them, go to my website at http://www.redroom.com/author/christopher-meeks. All you authors, by the way, you should ask for a free homepage at Red Room. The traffic there brings people to see your work.)  The reviewers of my previous book have been happy to consider reviewing my novel, and, in fact, reviews are now coming out.
The most anxiety producing part of the publishing process, by the way, are the reviews. First, they're hard to get. How many books do you read a year? If I read a dozen novels each calendar cycle, I'm lucky. Then again, I write and teach a lot and love spending time with my family.
Now imagine starting your own literary website, such as this one, where, once word gets out, you're offered hundreds of new books to review.  How many can you read and write about in a year? Let's say you're a superhero and can read and review one a week.  That's 52 books a year.  Over 200,000 books come out each year. Each one of those books wants to be reviewed. Each vies for attention.
Thus, you have your work cut out for you.  However, I'm convinced good writing will find its way. Build it and they will come.
Writing to reviewers directly helps. A talent you need as a writer is the ability to write a good short query via email and via snail mail. You need to understand how to get the attention of harried editors, agents, reviewers, and more people. Convince your friends to write reviews on Amazon, if nowhere else.
I'd read somewhere about advertising that it takes seven times for a person to see a new  product before it registers. Thus, how do you show your book to people seven times? I don't have that answer, but I work for ways to get the word out there, including writing press releases. I use PR Web.
One trick about press releases, by the way, is to come up with a headline that does NOT mention the title of your book or your name. After all, if people see either, will they be compelled to read your release? Probably not. This forces you to find the news for your headline. My last press release had the title, "Kidneys Fail and Moon Brightens for Rising Writer in March." It has to do with both my novel being published and a play of mine being produced, both at the same time. You can read this at http://evanews.com.
As you know well, there's a lot to do when you're the publisher.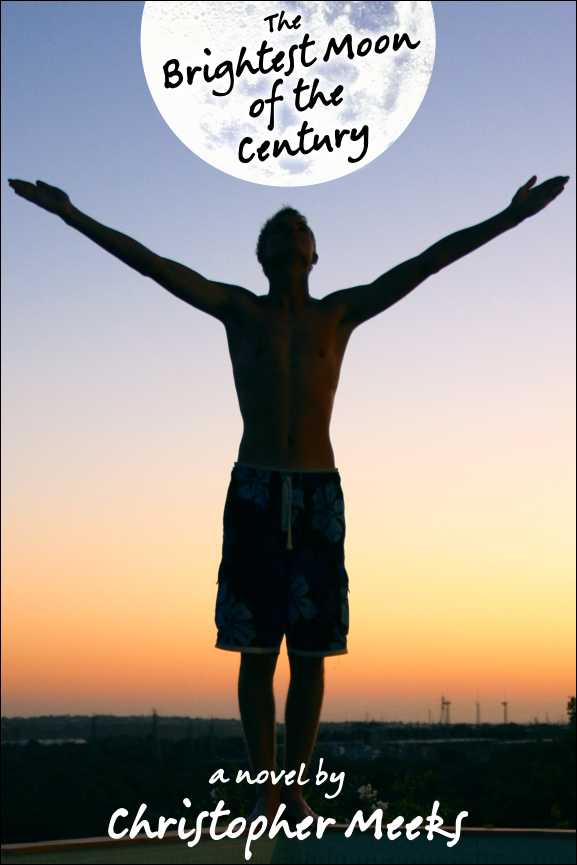 SPR: How's the reception to the novel been so far?
The anxiety I built up has been mostly relieved by the reviews I've received so far.  To my surprise, four reviews are already out.  Marc Schuster at Small Press Reviews writes, "The Brightest Moon of the Century is the work of an expert storyteller. The characters come alive, the writing sparkles, and the story of Edward's journey rings true through every twist and turn. A great and truly humane novel in the tradition of Charles Dickens and John Irving."
Grady Harp, an Amazon Top Ten Reviewer, wrote an in-depth piece, contrasting my short fiction with my novel and finding I'm one of the few to jump from writing captivating short fiction to mastering a novel. He says, "This is a fine novel, an engrossing story, and a group of indelible characters who linger in the mind long after novel's end. Meeks has done it again."
Heather Figearo at Raging Bibliomania writes, "This story would be perfect for someone who appreciates the outright unpredictability of life. I have no doubt that Edward and his quest for fulfillment will be loved by many. In one word, outstanding."
Sam Sattler at Book Chase adds, "The Brightest Moon of the Century is one man's story, a very ordinary man, at that, but Christopher Meeks has filled that story with enough interesting characters and episodes to remind just how limitless and filled with surprises even the most ordinary of lives can be. Meeks's characters, and his slightly off centered view of life, continue to remind me of John Irving's early work, definitely a good thing."
Last Friday, with Amazon jumping the gun and selling the book, I announced that it was for sale in my newsletter, the Maplewoods Mirror. It's a newsletter not devoted to promotion but mainly to my nonfiction articles. It's a place for me to write about what's happening in the world as well as write about being a writer. Anyway, before I announced the book, Amazon ranked it at #516,726. By 11:15 p.m., it had reached #8,266. That's certainly not in the top ten, but it's a wonderful start.
Thank you for this, by the way. This was fun.
SPR: It was, best of luck with the book.