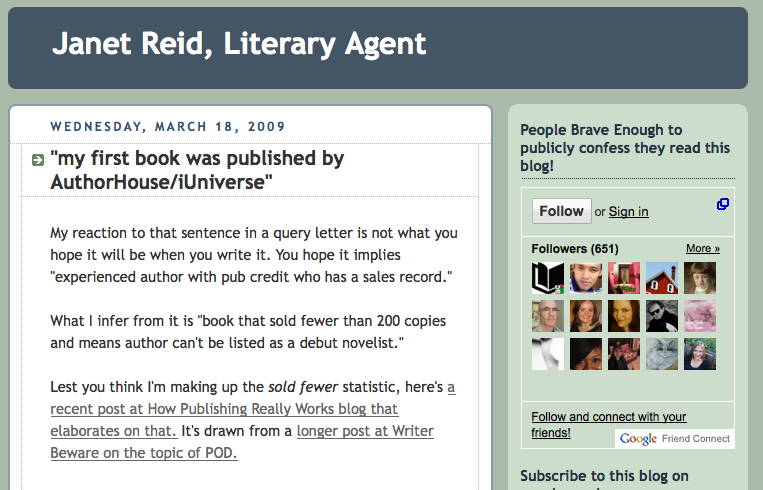 Fact: It's incredibly hard to sell a self-published book, especially self-published fiction.  Opinion: this doesn't matter.
There's a post on Janet Reid's blog today calling out writers who mention they've been published by AuthorHouse, iUniverse, etc. because this implies that they haven't sold a lot of books.  The point I make there in the comments section is that sales figures shouldn't be the main determining factor in taking on a writer, but unfortunately it is.  As I write about in this blog post, a self-published writer shouldn't be judged on the ability to sell 5000 books via Lulu.  The main writers that do this are going to be commercial writers with mass-market appeal, not writers who write something that's more difficult to market.
Case in point is a writer like Jeremy Robinson, a self-publishing success story.  His first novel The Didymus Contingency came out during The Da Vinci Code hysteria – both books with titles starting with D and C.  More power to him that he was able to sell a lot of books, but the fact is that those self-published books that sell the most will also likely be the most conventional.
So judging a self-published book based on the number of copies it sells seems wholly inaccurate – especially given how incredibly hard it is to sell and market a self-published book.  I'm repeating myself, but if a self-published writer can build a fan base of a few hundred rabid fans, this is in itself remarkable.  Selling thousands of books is a nearly-impossible anomaly, and shouldn't be the only determining factor for a traditional publisher picking up a self-published book, because it's really just relying on how marketable a book is – which is no different than how the querying process runs currently.
Janet Reid links to a post on How Publishing Works, which reveals the low sales figures for books put out by the major subsidy publishers.  Again, I'm repeating what I've said here previously, but if all you're going on is sales figures, this is an enormously crass vision of writing and publishing.  A writer wants to reach readers.  Even if this is done on a small scale, it is preferable to having a book lay entirely dormant.
It's a good idea for writers to understand that marketing a self-published book is incredibly hard, rather than have a pipe dream of overnight success.  But at the same time, prospective self-publishers should understand that if you are able to reach a handful of new readers who love the book then this has real value.  Obviously you want to sell a lot of books, but if you don't that doesn't automatically make the book a failure.  My laws of self-publishing:
Don't expect to sell a lot of books.
That doesn't matter because connecting with new readers – however many – is the goal.
There's no shame or defeat in self-publishing if you satisfy #2.
My experience with self-publishing was putting a book out a book through Lulu.  It got reviewed by Poddy Mouth and from there was mentioned in Entertainment Weekly.  From that I got a proposal from a top-flight literary agent, without ever having to query.  A confession: the book has only sold a few hundred copies.  Case in point how difficult it is to sell a self-published novel.  Poddy Mouth – the biggest POD reviewer at the time – basically implored people to buy the book, but not a lot of people did.  That was pretty clear evidence to me just how hard it is to sell books via online reviews.  But overall releasing the book myself was an enormously positive experience and one I'm looking forward to doing again.