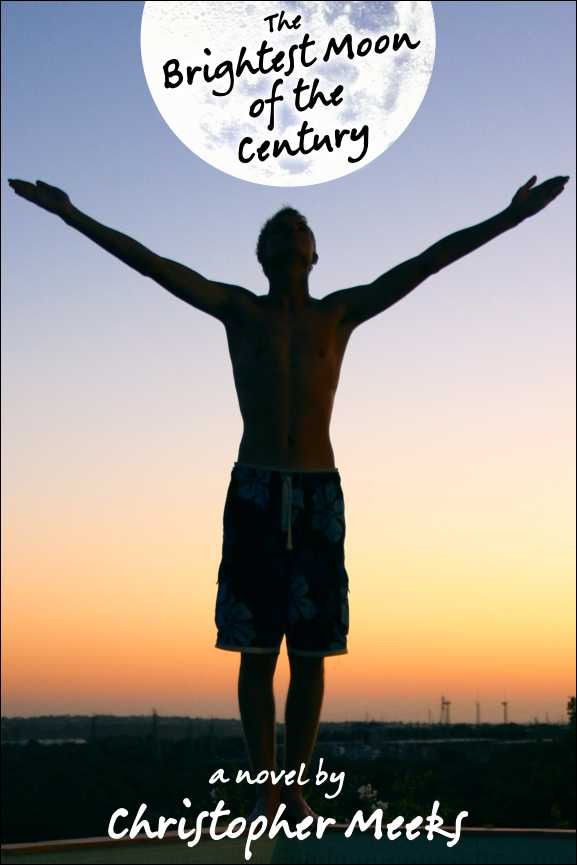 Christopher Meeks is a self-publishing success story.  No, he hasn't landed a huge publishing contract, but he's establishing a very serious writing career via the self-publishing route – one that could be the model of how to do self-publishing right and how it can be the avenue for serious and entertaining fiction.
I've read every one of his books that he's put out via Lulu: two short-story collections – The Middle-Aged Man and the Sea and Months and Seasons – and a play – Who Lives?  I've also seen a performance of Months and Seasons with stories read by actors at the Beverly Hills Library (where I also happen to do much of my writing).  So I'm very familiar with his work and I was very curious to see how he would tackle a novel after reading his shorter fiction.  The answer is: very well, and I would say this is a richer, more fully-realized work than his stories. His stories are excellent, but stories are more temporary, and the novel covers a wide range of human experience.  By the end of the novel, you'll have received new wisdom and insight into just what it is to be alive.
The Brightest Moon of the Century follows Edward from childhood, soon after his mother died, through high school and sullen adolescence, to college alienation and success, to his shiftless twenties where he's trying to find solid ground, to graduate school where he meets his wife, to…part of me doesn't want to fill in the blanks, as I don't want to play spoiler.  Though this isn't a heavily plotted novel in the traditional sense, it is certainly a page turner, as you keep reading and reading to see how Edward's life progresses.  Meeks expertly demonstrates that the same sullen kid is always in there somewhere, even as the main character gains adult experience and improves personally and emotionally.
Because the novel follows so many eras in his life, from the late sixties, through the eighties, on up to the late nineties, at so many different ages, there is something everyone will recognize about themselves in Edward.  For me, my favorite sections of the novel where when he's in college: the sense of hope and enthusiasm, mixed with the strange alienation of being in a new place.
The sequence when Edward works in a trailer park in Alabama – which comprises the largest portion of the book – is an enormously entertaining  and evocative portrait of the deep South, which ends with a startling, and perfect, climax.  So, no, there's no murder in this book, or crime to be solved, but you'll find yourself reading nonetheless as the great puzzle of Edward's life unfolds.  This novel feels epic, as most bildungromans do, but it's never tedious.  You'll find yourself wanting to get back to the novel, as you become invested in Edward's present and future prospects with the same kind of intensity as he regards his own life.
All told The Brightest Moon of the Century is an engrossing novel: uplifting without being sentimental, true to life's lower moments without being overly depressing, and something you'll find yourself recommending to new readers.
Read SPR's interview with Christopher Meeks.