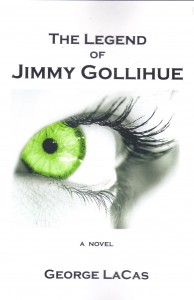 George LaCas spent years playing pool in the Deep South as he wrote The Legend of Jimmy Gollihue, and it shows. The novel, about a young pool shark in the not-too-distant past who takes his game on the road to prove himself to the bewitching young woman he loves, reads like something straight out of local legend.
One of my pet literature peeves is the technique (or lack of technique) of plunging straight into a worst-case scenario without giving the reader a chance to get their bearings. LaCas avoids this problem admirably, coaching the reader through the intricacies of professional pool hustling without ever resorting to tedious exposition. By the time the more complicated situations kicked in, I was feeling the way I always do during James Bond gambling scenes—I've got no real understanding of the game, but I know plenty to appreciate the action.
The feel of a legend permeates every part of Jimmy Gollihue, right down to the array of different voices telling the story. The multiple narratives develop a dreamlike quality as it becomes apparent that none of the speakers is exactly trustworthy—all of them are just telling a tale. It's to LaCas's credit that this comes off as rich and fascinating rather than distracting or frustrating.
The narrative is a tall tale told by a crusty old pool shark, and a legend recounted in lowered voices by true believers in the back rooms of Louisiana bars. It's a mythic parable of a hound dog running through the mist, hunting an evil prey whose scent it can't always quite hold. And it's the matter-of-fact truth in the sassy, adoring voice of Iris, the green-eyed, back-woods Irish witch who weaves magic tapestries in her clan's trailer park while she waits for her man to come back home.
Jimmy Gollihue is a tapestry unto itself, weaving in traces of the Odyssey, the Paul Bunyan school of American tall tales, magical realism, and some gritty Delta-blues deals with the devil, without ever becoming derivative or muddying the brilliant colors of any of its influences. It's a fun, absorbing read, with enough violence, humor, sex and magic to keep you on your toes, and enough depth to make you flip it right over when you've finished reading to start it all over again.
Visit George LaCas's great blog about the making of Jimmy Gollihue.