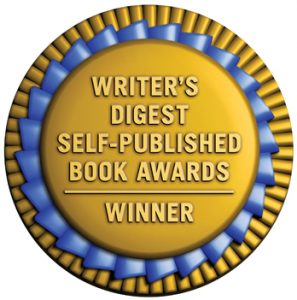 An alert that the Writer's Digest Self-Published Book Competition is open for entries until May 1, 2009.  I entered a novel in 2006.  I lost.  But it's got a much better prize package than other self-publishing competitions.  For instance, the Hollywood Book Festival (also open for entries) has a grand prize of $1500 for one writer.  The Writer's Digest competition offers $1000 to 10 first place winners and $3000 to the grand prize winner.  Of course, there are also a lot more entries as well.  In general, the Writer's Digest competition is more commercial than a contest like the Hollywood Book Festival, which is a companion to the DIY Festival and is open to darker, more independent work.
THE RULES:
1. The competition is open to all English-language self-published books for which the authors have paid the full cost of publication, or the cost of printing has been paid for by a grant or as part of a prize.
2. Entrants must send a printed and bound book. Entries will be evaluated on content, writing quality and overall quality of production and appearance. No handwritten books are accepted.
3. All books published or revised and reprinted between 2004 and 2009 are eligible. ( Writer's Digest may demand proof of eligibility of semifinalists.)
4. All books must be accompanied by an Official Entry Form. Photocopies of the Official Entry Form are acceptable. You may enter more than one book and/or more than one category; however, you must include a separate book, entry form and the additional fee for each entry. New for 2009: Register your entry online.
5. Check, money order or credit card payment for the required judging fee of $100 for the first entry, $75 for each additional entry must accompany submissions.
6. All entries must be postmarked no later than May 01, 2009. All winners will be notified by October 12, 2009. If you wish to receive confirmation that your entry was received before the deadline, we recommend using certified mail or some other tracking method to send your entry.
7. Judges reserve the right to withhold prizes in any category. Judges reserve the right to recategorize entries.
8. Books which have previously won awards from Writers Digest are not eligible.
9. Employees of F+W Media, Inc. and Book Marketing Works, LLC and their immediate families are not eligible.
10. Writer's Digest is not responsible for the loss, damage or return of any books submitted to the competition.
Read full details here.  And check out SPR's list of other self-published book contests.
Update: God's Thunderbolt, a novel recently reviewed on SPR, has won the Spur Award for Best First Novel. Self-published books can win non-self-published competitions, especially in niche categories.