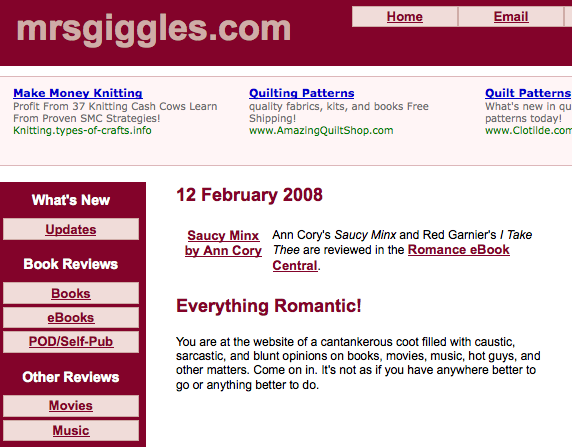 Via the Podler, there's a fairly contentious post on Mrs. Giggles on the state of self-published book reviewing, stating that self-publishing reviewers are too complementary – unrealistically so – without enough of a critical eye.  She singles out Pod Peep and Podbram for being the best self-publishing review sites out there.
I agree with her to some degree, but I feel that self-publishing is a different animal than traditional publishing.  Given the fact that self-publishers are facing an uphill battle to find readers and distribution, it doesn't entirely make sense to write negative reviews.  So, like the old Poddy Mouth, who only reviewed books she loved, there is some value in propping up those books that deserve attention.
SPR doesn't review only good books to this degree, as we publish negative reviews as well.  But I find myself increasingly avoiding those books that have too many problems.  As an aside, I'm currently revising my own novel, so I just don't have the time to devote to reading and writing 500 words about a book that is mostly flawed.  After I'm done, I'll probably have more headspace to dive into negative reviews.
Her main point is that the good reviews aren't tempered by enough honest criticism, and I've probably been guilty of that.  In an effort to legitimize self-publishing, there can be a tendency to oversell those books that deserve more recognition.  But I am wondering from authors: would you rather have a review that's mostly negative or no review at all?  As they say, there's no such thing as bad publicity.  Do you really believe that?
It will help to legitimize self-publishing by calling out those books that have fundamental problems, so it's an important process, but a review of a book that might not be helped even with constructive criticism does not seem, well, constructive.
Mrs. Giggles seems to have a bit of an anti-independent streak.  She criticized an anthology I appeared in, Falling from the Sky, saying:
If you are starting to think that "edgy and experimental writing" is an euphemism for stories about crackheads and other junkies, you're right. Trainspotting has a lot to answer for, I tell you. Still, to be fair, not all the stories here are about the angst and melodramatic tribulations of being a fashionably cool junkie – some deal with booze, lonely women writing to imprisoned criminals who shot down their beautiful old school friend's husband, broken relationships that always leave the woman reeling with pain, odes to people dying. In other words, the whole thing comes off like a collection of stories for young kids who dabble in making amateur horror movies and writing poems about anguish and despair."
(I wrote the story about the "lonely women writing to imprisoned criminals who shot down their beautiful old school friend's husband" – read the anthology for free here). And she writes about Frank Daniels' futureproof by saying:
So we have N Frank Daniels, one of those guys who think the world needs another story of some white guy who battled drug addiction and triumphed, and his book was picked up by Harper in what is pretty much a POD Idol contest where you get your friends and families, oops, fans to vote for you as the winner.
Which is a pretty grave oversimplification of Frank Daniels' story.  There's no such thing as "another story of some white guy…" if that story is told well, which futureproof is.  So this indirect criticism of SPR (she never calls out SPR directly) is just one person's opinion, but it's something I've been thinking about.
Bards and Sages, a site that has a stellar list of venues that review self-published books, criticizes Self-Publishing Review by saying,
Reviews are lengthy and thoughtful, but sometimes focus on issues that are important to self-publishers and not readers.  Discussions of printing problems with printers probably shouldn't appear in reviews, as the information won't mean a thing to a customer.  If the reviews can keep the reader's needs, not the author's concerns, in mind, the site could prove to be a useful tool for readers to sort through and find gems among self-published titles.
I could be wrong, but I imagine more writers come here than pure readers.  So I think talking about problems with margins, cover design, etc. is important – especially to help improve the overall quality of self-published work.  So in general this site is more author-centered than reader-centered.  Feel free to leave a comment if you think SPR should head in another direction.