Keith Harmeyer is the author of the immensely entertaining novel Commercial Break.  He has the unique perspective of being a self-published writer who has also worked in book marketing.  He shares his experiences with marketing his novel and other people's books.
Self-Publishing Review: Adam Glassman is a frustrated novelist working in the ad game.  You're a person who worked in advertising who wrote a novel.  Is this a novel you thought for years about writing while you were in the business?
Keith Harmeyer: It is. I'm not sure exactly when the concept first came to me; but at some point I started thinking about the vast sums of money entrusted to the ad agency, and how someone might go about manipulating the system to take advantage of their clients. Before you ask, though, it's absolutely an unproven theory.

SPR: How long did this book take you to write?  Were you working by day, writing by night?  Did you drop out of the industry to write your novel?
KH: I carefully outlined the plotlines for about nine months before I started writing. The actual writing took about a year; and yes, I wrote it while working full time. I have enormous respect for anyone who completes a novel. It's extremely difficult, at times very tedious. It's no wonder there are so many half-finished manuscripts out there. I worked with a coach during my year of writing, who kept me on task and accountable. I'm not sure I would've finished otherwise.
SPR: Do you have as much contempt for advertising as Adam?  You describe that you wrote copy for bestselling novels.  That's a bit different than beer commercials.  Or have you worked in the Super Bowl commercial side of advertising as well?
KH: Ha! Contempt and respect. Advertising is the home of some of the world's smartest and most talented people, on both the agency and client sides of the business. But there is something about the nature of the work that spawns massive egos, and about the client/agency relationship that breeds contempt. Everyone who's worked in advertising for any length of time has their favorite client abuse story. But I also have ex-clients who are personal friends. As for the types of work I did, my career was similar to Adam Glassman's. I worked for a handful of established agencies and also owned my own business for about ten years. No beer commercials, but I did work on a very broad range of categories and brands. No Super Bowl spots; though I did work at an agency at the time another creative team was producing a very lavish and high-priced Super Bowl commercial.
SPR: So what was the process of promoting a book by Tom Clancy, or other bestselling authors.  Would you read the book and then write a tagline and other promotional material?  What exactly did you do for these authors?
KH: That's exactly right. I'd read the book and then write the ads – typically radio spots and print ads, but occasionally a TV commercial. It was great fun, actually. But advertising for books is usually low budget; they don't run a lot of media or spend a lot of money on producing the ads themselves. It's all about creating buzz at the release of the book. The hope is that word-of-mouth picks up after that.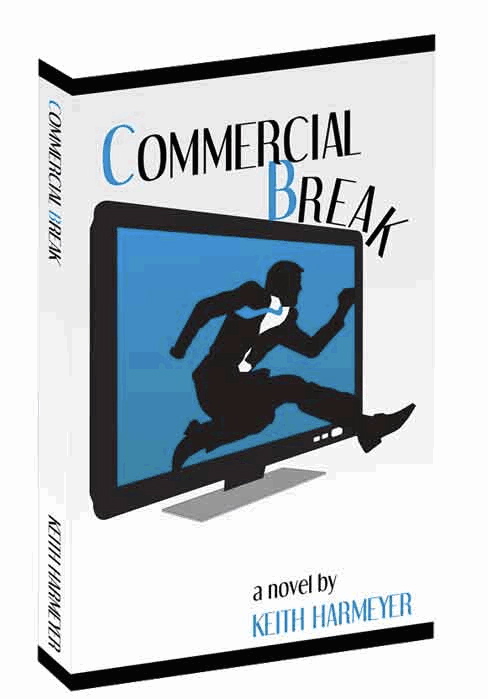 SPR: How has your experience in advertising helped you promote your own book?
KH: Well, I'm a marketer. So I've tried to target appropriate audiences with my book – fans of "Mad Men," of course (as I am – I haven't missed an episode); readers of authors whose work I believe is similar, like Elmore Leonard and Carl Hiaasen; and advertising professionals, who are often voracious readers.
SPR: It seems as someone who worked in the commercial publishing industry that you would have some connections to help you get this book traditionally published.  What steps did you take to get this book published traditionally?
KH: I did have some, but fewer than you may think. As you know, over the past decade or so publishing, like every other industry, has undergone enormous change. Many of the people I knew in the business left. But I did get a few referrals to agents.

SPR: What sort of response did you get from traditional publishing?  As our review of your book says, the book is fast-paced and well-conceived.  I wonder what kind of criticism they had.
KH: Great question. I did not approach any publishers directly, only agents. The response was outstanding. I was asked for my complete manuscript by quite a few well-known agents, even got phone calls from a several. But in the end, none of them took it on. I believe it is very difficult for first-time fiction writers to get serious interest. The business is completely stacked against them nowadays. It happens, of course. But my sense is less frequently than in years past. Fortunately self-publishing is an increasingly viable alternative – especially as marketing budgets and support for new writers has all but disappeared at publishing houses. As for the type of criticism I heard, it was inconsistent; so that made it all the more difficult to make good use of it. I heard everything from "great manuscript, but publishers won't buy books about advertising," to "well-written, but your hero isn't sympathetic enough" to "great dialogue, but you use too much profanity." But I never heard the same one twice.
SPR: One issue that might come up is that because you worked in advertising and you wrote a novel about advertising that you're possibly a one-subject writer.  Really, that's fine.  John Grisham writes mainly legal thrillers.  But do you see yourself branching outside the world of advertising and writing about totally different subjects?
KH: I've led a pretty varied life so far. I was born and raised in New Orleans (always a source of literary inspiration), have lived in New York City for over two decades, was a professional singer/actor before going into advertising, am an accomplished public speaker, I sail, play tennis, fence (and have a son who fences competitively on an international level). Clearly lots to write about. In fact, my next novel will be about a former investigative reporter and be set in New Orleans.
SPR: Thanks, Keith.  Good luck with the novel.