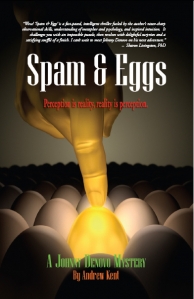 I don't know why the private eye genre is not more used more often – not in crime novels, but in general fiction. Most any book is an investigation – with the writer acting as a sort of investigator into the lives of his or her characters.  The private dick novel merely makes this more blatant by making it a literal investigation.  There are endless possibilities.
I'm a huge fan of noir fiction – particularly of Jim Thompson, more than Raymond Chandler, as Thompson's characters are weirder and more damaged.  Philip Marlowe usually wins his fights, Thompson's characters usually lose theirs.  A writer like Paul Auster has turned this genre on its head in his collection of short novels, the New York Trilogy, including City of Glass: an update on the traditional detective novel, in which the thing being investigated isn't necessarily a murder or a crime, but issues of identity or even the genre itself.
Andrew Kent's Spam and Eggs is in line with Auster's take on the genre, or Jim Thompson's.  In other words, it's a weirder update on the detective novel.  At the same time, it might not go far enough – it's not quite as outlandish as it could be.  Still, like a Dostoevsky novel, or Auster's City of Glass, you get the sense throughout this book that the novel is about more than its subject.  There's an undercurrent of double meaning to the entire novel, which is an impressive accomplishment and makes you keep turning the pages to see what will be revealed.
You get this sense of double meaning from the title itself – I won't give away what "Spam and Eggs" is actually referring to, but when the detective Johnny Denovo pieces together the case that revolve around – yes – spam and eggs, the novel truly comes alive.  I found that other parts of the book didn't retain this sense of excitement, or mystery – i.e. if the book's going to work as both an allegory and a traditional detective story, the detective story needs to be as suspenseful as a traditional yarn. And this book is unevenly suspenseful.
But Andrew Kent is a very good writer.  This book is full of unique turns of phrase.  Some of it reads like Raymond Chandler mixed with Thomas Pynchon.  It's written with an authority you don't often see in a self-published novel.  So there's a lot to recommend this book.  But certain sequences and characters are not as well drawn as others – such as the female lead, Mona, who is a kind of traditional pulp vamp, but sometimes hard to pin down – not in a way that seems intentional, as if to keep the reader off guard, but that the writer isn't entirely sure what sort of person she is.  Johnny Denovo, on the other hand, is a great and unique private eye and I'll be very interested to read future Johnny Denovo mysteries, as he's got both a hard-boiled and skewed point of view that makes for good reading.
Take a look at that cover – really one of the better self-published book covers you'll see.  The writing in this book is a reflection of that cover: it's strong, unique, and entertaining.  My main complaint is that it doesn't do those things consistently throughout the entire novel.  Overall, it's recommended and I'll be keeping an eye on whatever Andrew Kent puts out in the future.
Visit the author's site.