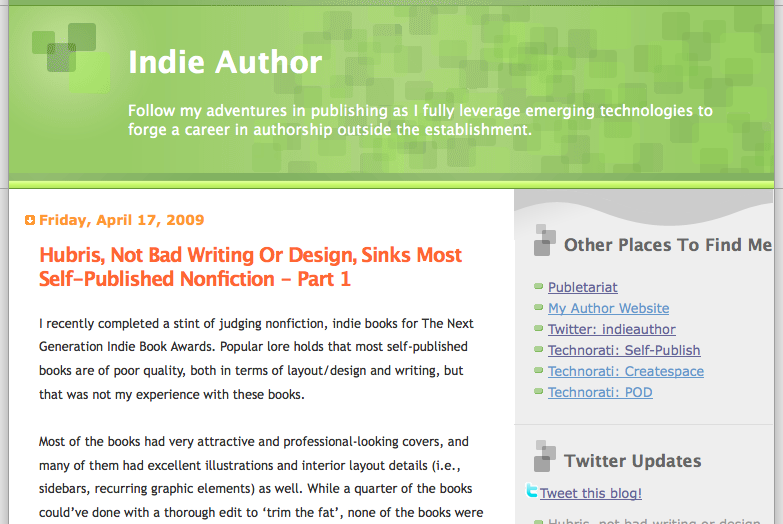 April Hamilton of Publetariat has a very interesting and important blog entry called Hubris, Not Bad Writing Or Design, Sinks Most Self-Published Nonfiction.  In it she describes judging book for the Next Generation Indie Book Awards – including books about weight loss and Youtube marketing by people who are wholly unqualified to cover the topic.  She writes:
The tendency of so many authors to base an entire book or belief system on false correlations, or even mere coincidence, was astonishing to me, as was their complete lack of awareness that their ability to formulate a possible cause-and-effect relationship does not make that relationship valid, nor make them experts in either the cause or the effect.

There are many possible explanations for the first woman's weight loss, but based on little more than intuition she's concluded that hazelnuts were the key to her success. She's not remotely qualified to design a safe and effective diet plan, yet here she is, promoting her hazelnut diet as a surefire, safe solution for anyone wishing to lose weight quickly.

If the YouTube guy had come up with a successful strategy to get the celebrity's attention or the late-night talk show mention, that would be worthy of sharing with the world. In this case, he simply had an incredible stroke of luck that occurred entirely outside his control or even immediate awareness. Yet here he is, claiming he can show anyone how to recreate the same outcome.
I don't really have anything to add to this except to say this is a very important topic that needs to enter the dialogue about self-publishing.  At Self-Publishing Review, the books we receive for review are mostly fiction – perhaps because most of the reviewers are fiction writers and that's the overall slant of the site. When we have received non-fiction, it has been with people who have some authentic authority, such as Take Charge Living.  The quality of that book aside, she is a clinical psychologist and professor of psychology at UCLA, so she has the credentials to write about her topic.
I've railed against the quality of self-published fiction output, but that mainly just hurts the cause of self-published fiction, it's not actually physically damaging to anyone, as could be the case with a terribly conceived diet book.  Even the book on Youtube marketing is more questionable than a low-quality book of fiction, because the non-fiction writer is claiming to be a real-world authority.  The "authority" of a fiction writer is subjective.
Overall, the quality of poorly-conceived non-fiction could do more to harm the reputation of self-publishing than fiction because people are writing books they have no business writing.  There's no way to stop this exactly – short of making the self-publishing house liable.  Currently, self-publishers are not liable for defamation, as determined by the recent case Sandler v. Calcagni, which determined that authors are fully responsible, as a self-publisher is merely a "printer" and not an advocate of what it's printing.
The court effectively viewed the BookSurge service as a giant online copy machine, noting that it had "negligible involvement" with the authors of the book. BookSurge never fact-checked or reviewed the manuscript, and it had no editorial control over the work. Accordingly, the court found that the service did not know, or have reason to know, that the book might be defamatory and thus could not be held liable.
OK, but what if the self-publisher is actively involved in editing and producing the manuscript.  For a price, self-publishing services take on all the roles of a traditional publisher: design, editorial, and marketing.  So even though this is for payment, it would seem that the self-publisher is culpable, especially if the content is overtly damaging.  Most self-publishers have a clause that you can't publish work that promotes illegal activity – you have to go to Loompanics for that.
The hazelnut diet is something else. If it has a disclaimer, as all diet books do, that should protect the author.  This is also an obvious case that falls under the first amendment.  My concern isn't really about holding an author legally responsible for producing a book with poor quality information.   It's more of an ethical question, as well as disappointment that writers are not factoring in the quality of their work before releasing it to the public and how this can hurt the perception of self-publishing overall.