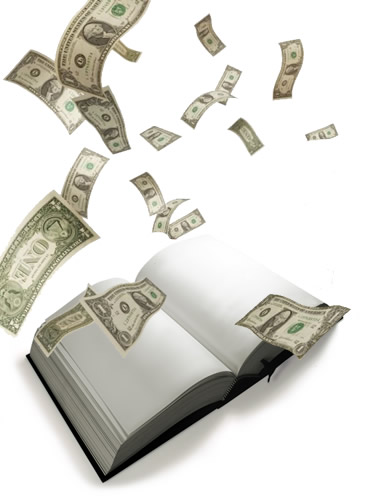 This recent opinion post about writers who can "get away with" not hiring an editor if the book is interesting enough brings up an important topic: how much should self-publishers look to spend on releasing a book.  That post may make it seem like it's justifying poor editing.  This is not the case at all.  It's more to suggest to readers that they should perhaps be more lenient of self-published titles given the enormous expense of getting a book properly edited.
The problem with this stance is that it will cause people take self-publishing less seriously.  If people are reading – or, worse yet, shelling out money – for books that are less than professional, it will not do a lot of good for self-publishing's reputation.  But these books are out there – flawed but interesting – so this topic needs to be addressed.
One of the interesting criticisms that people have had about the articles that trump up self-publishing is that these pro self-publishing articles make it seem like self-publishing is a route to success for many authors.  The criticism is that these articles leave out the fact that the succesful authors may have hired high-powered and expensive PR firms – it wasn't just a happy accident.  Ironically, the criticism shows that self-publishing is a possible route to success if you can afford it.  In short, money can equal success.  Obviously, it's not a given, but the criticism actually calls attention to the fact that if you can afford it, you've got a much better chance of being a successful self-publisher.
OK, but what about for the rest of us – all those who can't afford a $10,000 PR firm.  You know, most people.  Well, even if you can't hire a publicist, the expense of self-publishing can be pretty high if you want to do it right.  To start you've got two major costs:
If you work with a freelance book designer or a freelance editor, you're going to be looking at – at least – $400 for each.  That's $800 right there, and that's before you've set aside any money for promotions.  People may be sucked into going with a "free self-publishing" outfit like Lulu, only to find that they end up spending money on editing and a book cover and spend as much money as buying a package with iUniverse or AuthorHouse, or similar subsidy press.  Look at the editing service via Infinity publishing: .013 cents a word, which comes out to around $1000 for an 80,000 word novel – which is a short novel.  An independent editor is likely going to be cheaper, but still a significant financial commitment.
Another advantage of working with a freelancer is creative control – and given that's the advantage of self-publishing on the whole, this is important.  The editors and designers at a subsidy house are much more corporate and less personal than someone you've found yourself.  At iUniverse you may be assigned a book designer and editor, not someone who's work you've admired or who comes recommended.
But it's certainly easier to just get a package deal with AuthorHouse or iUniverse (just using those examples – there are many other packages available), in which you get book design, editorial, free book copies, and perhaps other services – like a press release or marketing consultation.  While the package of $1200 from AuthorHouse sounds potentially like a rip-off, it's not necessarily so if you factor in getting all of these services done freelance.  If you're talking a PR firm – that's normally a base fee of $1000 and up.  Already, with a freelance editor and cover designer we're talking $1000, at least, so subsidy packages are starting to look more attractive.
After publication, you have to think about printing costs as well.  If, for example, you print through Lulu – a short novel of, say, 250 pages, is going to cost you $14.00 to print and ship.  You can get books sent in bulk, but if you're then sending those books again to reviewers, each with a marketing package, you're looking at hundreds of dollars in promotional fees.  This doesn't take into account advanced press release distribution, bookmarks, postcards, and other printed material.
In sum, self-publishing costs money.  And it's tough to justify the expense because even if you do everything right: get a professional cover designed, have the book professionally edited, it's still difficult to sell books.  Think of self-publishing like a business – which it is.  Any business has start-up costs and most businesses don't turn a profit for a couple of years.  A self-published book is no different.
This is really why you see so much skimping on book covers and editing.  It might not be because people are totally careless (maybe), but they just can't afford otherwise  Should these people bother publishing or wait until they can afford it – or put it on credit?  It's up to each writer, but if you're really serious about reaching an audience, you should not be surprised that you need to spend at least $1000 to make that happen: cover, editing, and promotion.  And that's being conservative.
DIY Publishing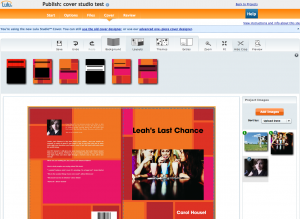 There are certainly ways to cut corners.  Lulu's new cover creator can create more-varied book covers than in the past, when Lulu's basic templates gave books that "Lulu look."  Their cover creator is a vast improvement.  Remember, you can create a Lulu cover without ever printing a book.  You can just download the PDF after using their cover creator and use it with another service.
The same goes for creating the internal text.  Format the book in Word and then use Lulu's PDF creator to create a PDF.  Note: the translation to a PDF from Word is inexact, so you may have to play around to make sure the PDF is an accurate representation, such as changing margins and spacing. There is no reason to pay for PDF conversion, or pay for a PDF writer, as you can do it for free on the Lulu site.
Editing is not something you can skimp on, so this should factor into your budget.  But if you're really strapped for cash, try to find an objective reader who's willing to put in some work – not family who will tell you what you want to hear.  It's also a good idea to put the book down for a couple of months to return to it with fresh eyes.
What it comes down to now is what your hopes are for the book.  Are you looking to start a career or are you just a hobbyist?  The latter can just publish through Lulu – without an ISBN.  Most, though, like the idea of being in stores, in which case you can buy an ISBN through Lulu for $100, where you can purchase an ISBN one at a time.  I'm mentioning Lulu a lot – but the site really is a good focal point for these individual self-publishing services if you're not interested in a package deal.
Miscellaneous: From Wordclay you can buy a Library of Congress catalog number for $150 to get the book listed in libraries.  Given the difficulty of getting most self-published books into libraries, you could sacrifice this cost.
iUniverse sells a very expensive Bookseller's Return Program that can be purchased individually for $699, which lists a book as returnable in Ingram's database. The book needs to be printed with iUniverse so booksellers know where to return it.  To do this on the cheap with iUniverse would mean buying their cheapest package @ $599 + $699 for the return program.  Otherwise, the only package with the return program is their Premier Pro package that costs $2099.
Confused yet?  There are a lot of options, but the general assumption should be that self-publishing costs money.  Much of the press about self-publishing suggests how much cheaper it is because print on demand publishing means that writers do not have to buy printed books in bulk.  Even with the advantages of print on demand, there are a number of expenses that will quickly add up. And given the fact that you're going to want to buy in bulk to send out books for review, finding the cheapest printing source available is important – or getting a package that includes complimentary copies.
This is how I'm doing it: formatting the book with Lulu, buying the ISBN through Lulu, having a cover designed independently, getting edited via an objective, no-cost source, printing the book directly with Lightning Source to cut down the printing costs by half, as compared to Lulu.  Debating whether or not to get a Library of Congress number, but probably not.  If I had a lot of money to burn, I might go straight to a publisher like Mill City Press, but like many authors, I'm doing it piecemeal.