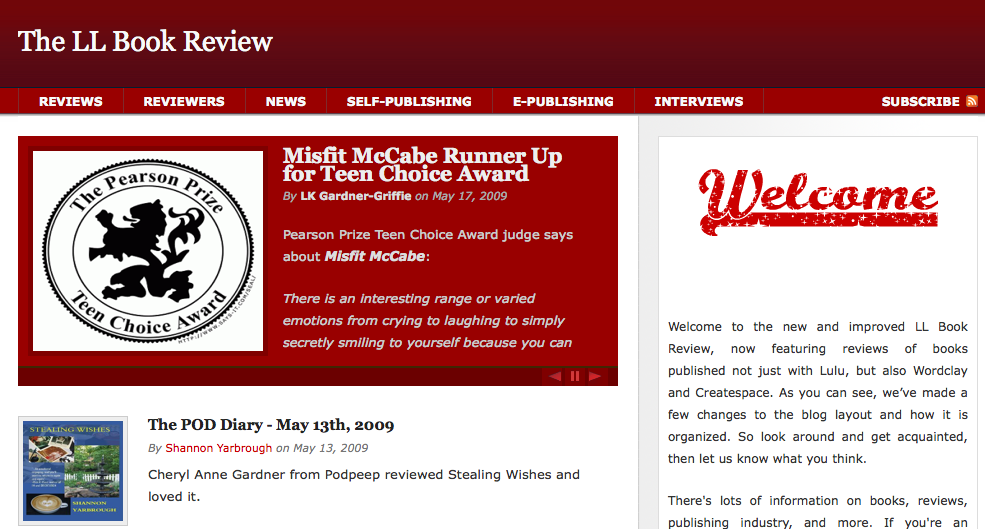 The self-publishing blogosphere just got a lot more slick and professional.  The Lulu Book Review is now the LL Book Review – offering reviews of books on CreateSpace and Wordclay, as well as Lulu, with a totally revamped design.  This is great news as self-publishing becomes more legitimized and a part of the overall dialogue.
In editor Shannon Yarbrough's own words:
For over a year, the Lulu Book Review has been offering Lulu authors a chance to shine.  With some exciting new changes, the site will now reach out to more indie authors and do it in style.  In March of 2008, the site started offering reviews for Lulu authors, insight to the self-publishing industry, and news and opinions devoted to all things POD (Print on Demand). Starting in May 2009, The Lulu Book Review will now be called The LL Book Review.  Our new domain is www.llbookreview.com, which reflects the inclusion of authors publishing with Createspace.com and Wordclay.com.  The site has been completely revamped to be easier to navigate and use.

The reviewers at LL Book Review are fellow indie authors who have published and promoted their own books and want to give back to the community.  As always, reviews are provided free of charge.  Reviews will now include a link to the author's website and a link to a preview of the book if applicable.  LL Book Review will also be reviewing poetry again due to Lulu.com's recent purchase of the poetry.com domain.  Our one stipulation for poetry reviewing is that the book must be available on Amazon.  Authors will still be required to post a query on our Pick Me! tab to be considered for a review.

The new site features a scrolling marquee at the top displaying the latest six posts.  Below the marquee, browsers will find more recent posts with older posts divided by categories below that.  All posts can also be accessed by clicking on the various tabs across the top. The sidebar and blogroll have been revamped and still include our indie brothers and sisters (Please update your blogrolls and links to include the new domain!).  All reviews are now divided into categories by genre.  Other posts are also categorized by subject material, such as news, interviews, and opinions, making the new site much more user friendly.

As a friend of the old Lulu Book Review or a fellow indie author or blogger, we invite you to stop by the new site at www.llbookreview.com and look around starting May 21st through May 31st.  Let us know what you think by signing our guest book.

Welcome to the new LL Book Review!