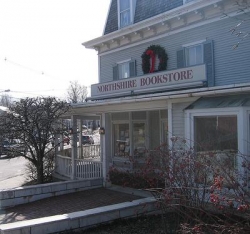 The new paradigm has come to Vermont – and no, SPR is not tired of the term new paradigm.  For publishing it is very apt.  The news from Vermont:
The publishing world is closely following the experiment at Northshire, the first independent bookstore in the United States to install the clattering book machine. If Northshire can make money printing books downloaded from massive online catalogs, it will show how small brick-and-mortar bookshops might be able to match the overwhelming variety of products offered by a giant online retailer like Amazon.com.

And no book ever has to go out of print.

It could streamline the traditional book supply chain, with much less need for space in warehouses, inventory on hand, shipping expenses, or management of returns.

Espresso's print-on-demand technology could also change the dynamics of large bookstore chains. On Demand Books, the New York company that produces the book machine, has just launched a pilot program with a distributor, making 85,000 book titles from major publishers like Simon & Schuster and McGraw-Hill available to Espresso machines.
Every self-publishing advocate should be crossing their fingers that the Vermont experiment works.  Because if it does – one small step for a Vermont bookstore could turn into a giant leap for publishing.  It's still a work in progress, but it's had encouraging results:
Meanwhile, Northshire discovered that the machine's ability to print original books in very small numbers was attracting a lively customer base of local authors. "Self-publishing was a plus we didn't expect,'' said Annette Rodefeld, Northshire's print-on-demand coordinator….

"The Kindle is hot,'' agreed O'Leary, "but e-books will be a small segment of the publishing industry for the foreseeable future. Print-on-demand, on the other hand, is growing.''
More on the Espresso Book Machine here: