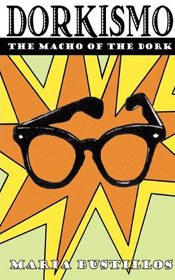 An interview by Erin Stropes with Maria Bustillos, author of Dorkismo: The Macho of the Dork: "Pure gold. Don't just grab it for the [David Foster Wallace] chapter (good as it is) but for the celebration of everything that is dork." Nick Maniatis, The Howling Fantods.
Self-Publishing Review: Hello, Maria, and welcome to the Self-Publishing Review hot seat. Your book, Dorkismo: The Macho of the Dork, is a collection of nonfiction essays celebrating the joys of dorkdom in everything from anime and "Star Wars" to Alexis de Toqueville and Jane Eyre. It's written in a light, chatty style that makes it sound like you're having a tremendous amount of fun – was this in fact a fun book to write?
Maria Bustillos: Hi Erin, thank you so much for inviting me onto this nice toasty chair.
Was it a fun book to write? Well, yes and no. Dorkismo is my first book, so I had a ton to learn. Initially, I'd had this idea that I could just yabber on, and a book would miraculously emerge. But no! It turns out that you can't just yabber indefinitely; eventually it has to make some kind of sense. So after a lot of wailing and gnashing of teeth, what emerged was a meticulously-researched but comical manifesto on behalf of personal freedom for all. So … the writing was rewarding, yes, very. And also excruciating, because it's such an unholy struggle to make the book say exactly what you mean. Fun–well yeah, who am I kidding?–even the painful parts of writing are fun, in a ghastly way.
SPR: Ahh, I should have known that something that reads so smoothly would in fact be the product of blood and tears. So the real question is—what prompted you to write what amounts to a manifesto for nonconformists and enthusiasts of all things weird, kitsch, or otherwise uncool?
MB: The book came out of a desire for people to have more fun. I've been engaged in this question all my life, since I realized as a young dork that you could be ostracized even for liking the "wrong" movie. There's this atmosphere of pouncing, out there, on any perceived infraction against orthodoxy, whether it's the orthodoxy of political correctness or the orthodoxy of correct musical taste. And while a lot has been written against the epidemic of irony, or snark (or pouncing,) very little has been written in favor of the pleasures of real outsiderhood, or of its inestimable value to our culture. I thought it should be made clear that someone who is willing to dress up as Princess Leia and go to a comics convention is a heroic figure, philosophically advanced–a living symbol of absolute, inalienable personal freedom.
There's an Amazon review of the book that I especially loved, that says that the author wants us "to love the things we love, and get our kicks in joy instead of judgment." That's exactly right, I really do.
SPR: The positive tone really does make Dorkismo a pleasant book to read. It's an impressive thing to be able to maintain, especially when talking about things like this How to Spend It magazine, which you describe as "the seething mash-note to conspicuous consumption that defiles the Financial Times every Saturday morning." Which doesn't really connect to my next question, but I had to quote it because it's so good.
My real next question is about your publishing journey – what made you decide to self-publish, and how has your experience been so far? I keep noticing that your book is one of the exemplars on the Blurb website, which is pretty neat.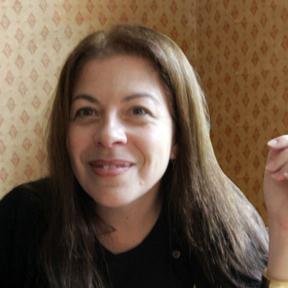 MB: That is so interesting! I no longer sell the book through Blurb, though; it's too expensive per copy, and they won't help you get on Amazon or any of the distributors.
Thank you so much for your kind words. I had (have) a big fear of coming over in a didactic or haut-en-bas way–kind of hard to avoid, when you are espousing almost any point of view at all forcefully–so they really mean a lot to me.
Self-publishing is most certainly the wave of the future. There were three factors pushing me in that direction. First, I'm a lifelong entrepreneur; my first company designed and manufactured overpriced tchotchkes, and I sold it in the mid-90s, when my partner and I divorced. After that, I had an internet business that rode the crazy rollercoaster of Web 1.0. So I have had a lot of experience running a small business, and already kind of knew the ropes for getting everything set up and running, from the licenses and other documentation to the accounting bits.
Secondly, I am very lucky in having a terrifically talented friend, Marie Mundaca, who is a professional book designer. We met through a mutual interest in the work of David Foster Wallace; she designed several of his books, and she is just plain awesome. There is a chapter about Wallace in Dorkismo–"David Foster Wallace, the Dork Lord of American Letters"–as you can imagine, it is a huge honor for me to be able to say that Marie designed my book. So I had access to first-rate skills for the design and production of the book.
And third, the publishing industry has been rocked to its foundations by recent events not just in the economy, but in content distribution on the web. Publishers are less willing to take a chance on new writers, and there's less money and less will to promote them; on the other side, the opportunities for self-publishing and marketing are just exploding. So I thought I should take the plunge and see if I couldn't grow a market for the book online myself. The tools that are available to writers, from Lightning Source to Twitter, are amazing and full of potential. It really is a huge amount of work, a lot of learning curves to climb, but I'm enjoying every minute.
I believe that if any as-yet-unpublished author has himself got, or has got access to, high quality computer graphics and web skills, some business experience and a lot of patience and energy, self-publishing is the best option in today's market. Especially when you consider that a lot of publishing deals have been made by new authors after a successful self-publishing effort. It often works the same way in the venture capital world, where a small entrepreneurial success is called "proof of concept" and will guarantee you a better deal from investors than what you could otherwise make. If someone is going to be putting money in your product, he is going to want all he evidence he can get that it's going to sell, so it stands to reason that a new author is going to get a better publishing deal on a book that has already proved itself on a small scale. I think this model is where the whole industry is headed, eventually.
Finally, one of the biggest advantages of self-publishing is the speed with which you can get a book to market. My second book, Act Like a Gentleman, Think Like a Woman, is a satirical response to Steve Harvey's book, Act Like a Lady, Think Like a Man, so part of its success will depend on continued interest in Mr. Harvey's book. If I'd sought conventional representation and publishing deals, I would never have been able to get this book out anything like as quickly. Even without spending a single dime on marketing, the book hadn't been out for a week before I was approached to do a radio interview, and it's selling really well; the response so far has been incredibly promising.
SPR: Is self-publishing dorky?
MB: Oh, yes. Self-publishing is maximally dorked out. The reactions you get when you tell people you've rolled your own on the publishing of your book range from kind of, "Where is your spacecraft parked?" to condescending little smiles, to "Wow that is amazing!" and questions about how it's done. The culture as a whole hasn't quite decided how it feels about us, yet. Are self-published authors bold pioneers, lovable eccentrics, or dangerous lunatics?
(A: Yes.)
SPR: Thanks a lot, Maria! It was a pleasure talking with you.
Visit the Dorkismo blog.
Visit Accidental Books.