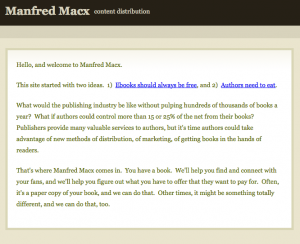 I recently came across Manfred Macx, which has a very interesting intro:
This site started with two ideas.  1)  Ebooks should always be free, and 2)  Authors need to eat.

What would the publishing industry be like without pulping hundreds of thousands of books a year?  What if authors could control more than 15 or 25% of the net from their books?  Publishers provide many valuable services to authors, but it's time authors could take advantage of new methods of distribution, of marketing, of getting books in the hands of readers.

That's where Manfred Macx comes in.  You have a book.  We'll help you find and connect with your fans, and we'll help you figure out what you have to offer that they want to pay for.  Often, it's a paper copy of your book, and we can do that.  Other times, it might be something totally different, and we can do that, too.
I wrote to Jon Renaut of the site to explain a bit more what it's about:
Manfred Macx is a new publishing platform focused on helping authors find new ways to get paid for their work. The name comes (with permission) from the main character in Charlie Stross' novel, Accelerando. The Manfred Macx in the novel, a "venture altruist," makes a living by turning the idea of making a living on its head. He has no use for money. He can hardly even spend the money he has, as he is met everywhere he goes by people who owe him favors.
In some sense, Manfred is part of the inspiration for the publishing platform that bears his name. The publishing industry is being turned on its head by price wars, cheap do-it-yourself options for printing, distributing, and marketing, and the economics of marginal-cost pricing. The traditional model of making a living is that people need food, clothing, and shelter, which cost money, so people must work to earn money to buy these things. Manfred, instead, gives away ideas, lets others get rich, and lives off their gratitude. The end result – he gets what he needs to live – is the same. But the method is different. The traditional model of publishing is something we are all familiar with to some extent. The end result is that people pay money to read books.
What Manfred has shown us is that the way things have always been doesn't have to be the way they will be. And that's not to say that the traditional publishing business will go away. It's just that there are other models out there, and for some authors, these models will be preferable.
Manfred Macx, the publishing platform, wants to help implement some of these models. We will offer a web page for the book that we can help the author publicize. We have editors on call for everything from final proofreading to major structural changes. When the book is ready to go, authors with Manfred Macx will set a financial goal for a piece of work, and then sell things until they reach the goal. At this point, the ebook version of the work becomes available to everyone, for free. Sharing on P2P networks is encouraged. The big question becomes, "What things can an author sell?"
We will offer print books through a print-on-demand partner. We will collect money from fans for the various things the author offers, and we can help with fulfillment of these orders.
The most exciting part is what the authors come up with to sell. We have already seen this happening in the music industry, where the digital revolution hit years ago. More and more bands are using the music as promotion and making money elsewhere. Authors can do this, too. It might be harder – it is a rare author who can make a living by selling out football stadiums – but it is not impossible. We have the example of the music industry to use as a guide (though mostly of what not to do). And you can call us biased, but we think authors are more creative than musicians.
How it works
Start with a book.
Sign up with Manfred Macx.
Set your monetary goal.  How much would it take to release your ebook to the world?
Create a page for your book.  This is easy through our interface, and help is available.
Decide what you want to sell.  For example, your biggest fan might be thrilled to get a personal letter from you talking about what you really meant at the end of chapter 7.  Your neighbors might think it a great birthday present for their son if he could choose a name for one of your main characters.  And you can make paper copies of the book available through our print-on-demand partner.
Decide what each item is worth, and how many you want to sell.
That's all you have to do.  Your page is now available on our site.  We'll help people find it.  We can help you publicize it.  We collect the money, and then you get paid.
When you reach your monetary goal, the ebook is released to the world.