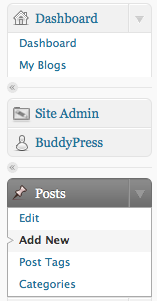 All registered users have the ability to add blog posts to the site.  To do so:
1. Register.
2. Log in and go to "+ New" in the top navigation.
3. Start blogging. Save as draft until the post is done, then submit for review.
New posts are moderated.

NOTE: We will only publish blog entries that follow the criteria:
1. Must be at least 350 words long.

2. Must be well-written and original about self-publishing industry news, how-to or interviews with self-publishing industry folk, opinion or experiences. You can cross-post from your own site.

3. Cannot be vanity posting i.e. "Check out my new book"

4. Must be spell checked and grammar checked.

5. Cannot be diary-led entry that has no relevance, e.g. "Today I went to a concert with my wife."

6. Cannot be reviews of books that have not been paid for through our review system – please ask friends and family to submit books here to be reviewed by a professional reviewer at SPR.

7. Please don't just submit a book synopsis as a post.
For shorter pieces – such as a link to an interview or review – post an update in your profile. All activity is listed in the sitewide activity feed.
Book Reviews
See the links for complete guidelines: