JA Konrath (this site can't seem to get enough of him recently) has an interesting and encouraging post listing 20 self-publishers who are as successful on the Kindle as writers from mainstream publishers.  These are:
Primal Wound by Ruth Francisco, ranked #688

Thin Blood by Vicki Tyley, ranked #14

Deed to Death by D.B. Henson, ranked #42

Toe Popper by Jonny Tangerine, ranked #1464

Kill & Cure by Steven Davison, ranked #72

The Shot to Die For by M.H. Sargent, ranked #231

The Elect by James Gilbert, ranked #756

Punctured by Rex Kusler, ranked #988

Final Price by J. Gregory Smith, ranked #3083

A Dirty Business by Joe Humphry, ranked #433

Moon Dance by J.R. Rain, ranked #52

Around Every Corner by Casey Moreton, ranked #3663

Defending Evil by Charles Shea, ranked #1469

The Bum Magnet by K.L. Brady ranked #836

Getting Rich by Steve Bensinger, ranked #838

Declaring Spinsterhood by Jamie Lynn Braziel, ranked #1580

Faking It by Elisa Lorello, ranked #365

Easily Amused by Karen McQuestion, ranked #290

Waiting For Spring by R.J. Keller, ranked #788

Escaping Celia by T.C. Beacham, ranked #909
This phenomenon brings up two points:
Writers can circumvent having a publisher.
There is no difference between self-publishing and traditional publishing.
Why #2?  Because the bulk of the novels on that list (aside from RJ Keller – though I haven't read the others) appear to be mainstream-style genre fiction, which is already an easier sell on the mainstream level.  One of the highest ranked books is a vampire book: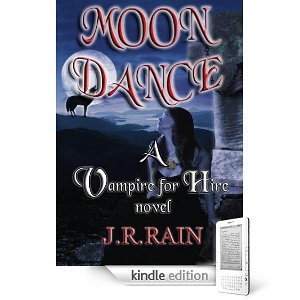 While this is encouraging and means great things for all writers, it does suggest this is how it is and it always will be – commercial fiction is, well, more commercial. Literary fiction will still have a tough go of it even it's easier to find readers.  One of the commenters there is downright cruel:
I hate to hit literary fiction when it's down, but when you buy a genre story you're buying the story, and you buy literary fiction you're buying the brand and lifestyle.

That militates against intrusion into that genre by self-publishers.

People who buy literary fiction are less likely to be satisfied with their purchase if it lacks the NY seal of approval, because without that seal they can't derive any benefit from ostentiously reading the book in front of their friends.
What's really interesting is that the current demographic of Kindle readers don't care about mainstream credibility at all.  I haven't read Moon Dance, but honestly that cover has "self-published" written all over it.  But Kindle readers don't care.  That may change once more people – and so more types of readers – get dedicated ereaders.  But that's not how it is today.  Why is that, I wonder?  Theories are welcome in the comments.
My theory – self-publishers have flooded the market, thereby making it more likely to land on a self-published book.  I have a book out on a small literary press that has yet to put out their books on the Kindle.  My own self-published novel went up first thing.  But also, and at the risk of sounding like a snob who writes literary-type fiction (and whose Kindle numbers are paltry in comparison), maybe these books work better on an electronic device because they're a breezier read.  I've got a Sony reader (though it recently broke – another story) but I still prefer hardcopy.  It breathes more.  But why were the first people to buy Kindles also readers who are less prejudiced towards self-released fiction?