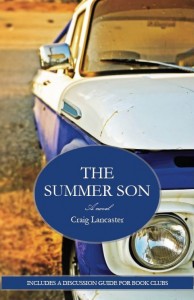 An interview with Craig Lancaster, author of 600 Hours of Edward, the forthcoming The Summer Son, and the newest member of the Backword Books collective. Reminder: writers have the opportunity to fill out this interview as well. Details here.
Self-Publishing Review: How did you come to self-publish? Did you try to get published traditionally?
Craig Lancaster: For me, the decision to form my own small literary press and shepherd my own projects (and others' projects — I hope to have some exciting news about that soon) represents a full circle. I originally self-published my first book, "600 Hours of Edward" (then called "Six-Hundred Hours of a Life"), back in February 2009, through CreateSpace. I really didn't know what I was doing. I'd written a book and wanted it in a form that family and friends could enjoy. When I started getting some positive feedback outside my own circle, I began tubthumping for it in a wider way. That led to its being picked up by Riverbend Publishing, a regional publisher here in Montana, and being re-released in October 2009. In February 2010, it was selected as a Montana Book Award Honor Book, the only small-publisher book so honored. Quite a journey in a year's time.
So, with some traditional-publishing validation and success (critical if not commercial), why go back for my second novel, The Summer Son (set for an October 2010 release)? Many reasons, but here they are in brief: I want to be able to write what I want to write and build a list and a following at the speed I want to do it. I've learned a lot about publishing in the past year, and I'm trying to map out a strategy that allows me to be successful as I define it, not as others do. Add to that my professional background as an editor, designer and typesetter, and I'm positioned in an interesting way to explore publishing from the business side of things, especially as it pertains to working with other writers. This really is something I want to do from all angles, not just with my own projects. But, obviously, I'm betting on myself first.
Now, I'm not one of those fiercely indie-is-the-only-way-to-go types. In fact, the whole debate tends to exhaust me. If a big — or even small — publisher were to make me the sort of offer that allowed me to focus solely on the writing and the getting out and meeting readers and prospective readers, well, I'm just lazy enough to do it.
SPR: What self-publishing service did you use? Happy with the service?
CL: Originally, I used CreateSpace. I'm now building books from scratch – using Lightning Source, hand-building the cover and the insides (as opposed to templates or "author-service" outlets).
SPR: What avenues have you taken to market the book? Have you gotten reviews, interviews, TV, print media coverage?
CL: I've done all of those things, and I imagine that a media blitz works for those who have the budget for such a thing. But here's the only surefire way I've found to sell books: make personal connections with people who love them, and count on the word of mouth. To whatever extent I've managed to build a readership, that's mostly how it has happened. And I love it.
SPR: What drove you to write this particular book?
CL: The Summer Son is an intensely personal book to me. Not because I lived that story — it is, after all, fiction — but because the themes of fathers and sons, of finding your place in the world, separation and reconciliation are so resonant in my life. I had to go to some deep corners of my own psyche to write it, and the subsequent drafts were arduous — something completely different from "600 Hours of Edward," which I mostly wrote in 24 days.
Is the book in any one particular genre? Is it a genre that's familiar to you?
The book tends to reflect my influences, at least as far as theme goes. It's set in the contemporary West. It traffics heavily in family saga/family relationships territory.
SPR: Who are your greatest writing influences?
CL: So many. I adore Ivan Doig for the beauty of his writing and his insight into character, Hemingway for his economy of language and solid prose architecture, Stegner for the way he wrote the West. Those are some of the folks who made me want to be a writer. I'd like to think that I'm mature enough now to be the sort of writer I can be, without trying to match them. I mean, that's laughable on the face of it. I'm no match.
SPR: Any final words of advice for those looking to self-publish?
CL: There's never been a more advantageous time, but that also means that the market is absolutely flooded with books, many of which shouldn't be out there. (I'm speaking here strictly in the artistic sense; obviously, anyone with the means should be able to do what he/she wants. This is America, dammit!) So if you're serious, I'd recommend really studying the landscape and taking the approach that works for you. I see great merit in forming small publishing companies, banding together into collectives, trading sweat equity with others who are in this boat.
From the development/production side: Hire an editor and a designer. Make your book look fantastic.
From the cultivating-a-readership side: Work the angles that allow you to interact with folks. Get on Goodreads and LibraryThing, and give away lots of books. Set up at arts festivals. Get to know Friends of the Library groups. Hone your public-speaking skills (there's a Kiwanis, somewhere, that wants you!). Be available.
From the sales side: Your bookstore options will be limited, but they are there, if you're willing to work on consignment or your books are fully discounted and returnable. Get to know your booksellers. It's great that you're on a shelf. It's better if the bookseller loves your book and is directing folks to it. And, obviously, your biggest advantage as an indie is to mine e-books for all they're worth. Price 'em low and move a lot of copies. You're aided by the fact that the big publishers absolutely seem to be screwing the pooch on e-books.
In short, your biggest built-in advantages as an indie are an ability to be nimble and inventive. So do it.
Some links:
The Summer Son is now available for pre-sale. Order before July 1 and receive a limited-edition, signed, numbered copy at 30 percent off the retail price: www.craiglancaster.net
My blog: http://craiglancaster.wordpress.com
Author page on Facebook
The Summer Son page on Facebook