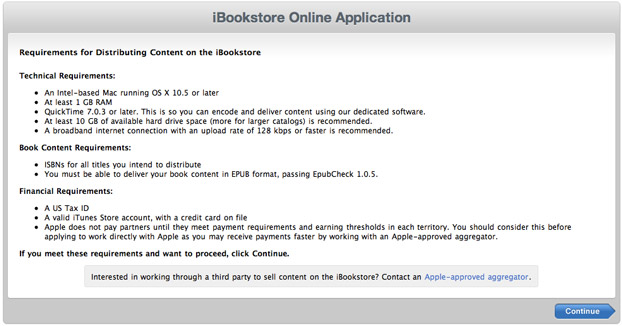 The Apple iPad has now gone the Kindle dtp route and now users can upload a book directly to the iBooks store without having to use a third-party distributor, like Smashwords (which I still advocate because of all of the other places it distributes to).
Via MacLife:
Apple sent us an e-mail today with details on how someone could sign up to sell their own books in the iBookstore. Their books would have to adhere to these criteria: each one would need to have a 13-digit ISBN, be in ePub format, validate against epubcheck 1.0.5, and contain no unmanifested files. If you are not familiar with any of these Apple suggests working with their aggregation partners.

In addition to these requirements you will need to have a US Tax ID, a valid iTunes Store account with a credit card on file, and an Intel-based Mac running OS X 10.5 or later.

The good news is that once you are established, Apple's online agreement allows you to sell your book in the iBookstore in several countries. If you don't feel like your selling your book in every country available, you can set which countries it'll be available in and the price for each of the titles.

A welcome addition to iTunes as far as we are concerned – global distribution of your book titles at prices you set. Additionally, once iPhone OS version 4.0 is released with an iBooks app, you'll reach a larger customer base.

You can sell your books after applying to participate in the program or connect with an iBookstore aggregator to get the help you need. Note that before applying you will need to have the ISBN-13 for at least one book otherwise your application will not be accepted.