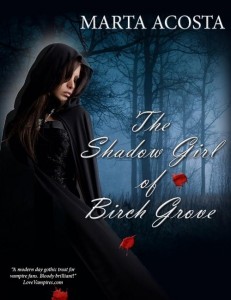 A few interesting developments in the changing landscape.
Marta Acosta Lands Print Deal After eBook Success
For Novelist Marta Acosta a free eBook was her way to print. After not getting a print deal, the novelist decided post her YA vampire title The Shadow Girl Of Birch Grove on Scribd. It became the #1 book on the site and got a bunch of reviews.

Galley Cat reports, "Novelist Marta Acosta posted her entire vampire novel for free on Scribd, earning 17,676 views and becoming the top ranked YA book on the site. Now she landed a deal with Tor Books."

Acosta told io9 blog about why she turned to Scribd, "We hadn't heard anything back and I was beginning to despair. That's when I put the book online as a free read. I don't know that having it on Scribd inspired the offer, but I was able to get reviews that were presented to the editor who expressed interest. Also showing her the number of reads made a difference."
Murakami Skirts Publishers With iPad Novel
Ever since the arrival of the slim and snazzy electronic book devices, the magnates of the traditional publishing industry have feared the worst: that precious big-name authors might sign directly with e-book retailers, relegating the old-school publishers as the dispensable middleman.

Let the nightmare begin. Novelist Ryu Murakami plans to release his latest novel exclusively for digital bookworms through Apple Inc.'s iPad ahead of the print version….

In offering fresh material only in an electronic format, Mr. Murakami's plan has basically removed the traditional book publisher from the calculation entirely. Mr. Murakami's past novels have been published by venerated Japanese companies like Kodansha. The company wasn't immediately available for comment. The new equation, in theory, would give authors a bigger chunk of royalties. Mr. Murakami said his initial goal of 5,000 downloads would cancel out the investment costs, and if the plan is approved, Apple will receive 30% of the revenue with the rest to be parsed among Mr. Murakami, Mr. Sakamoto and the software company, according to the Nikkei.
Phoenix Author Tries Self Publishing
With a push from pop-psychologist Phil McGraw, The Last Day of My Life author Jim Moret founded Incognito Books to keep the book, originally released in January, alive. The media savvy writer—chief correspondent for Inside Edition, a frequent guest host on Larry King Live, and a contributor to CNN—understands better than most the importance of taking advantage of a big break and that is why he chose to publish the book to have copies ready for the July 9 airing of a Dr. Phil show he taped right before Phoenix closed.

"My book is about facing challenges. I thought what good is it, if I can't face this," said Moret, adding, "this book was a simmer, kind of a slow build. I didn't want to wait. I knew I had a product that was written, edited, and done." To keep the momentum growing for the inspirational memoir, which was out of stock and had 4,000 copies on back order after two printings for a total of 15,000 copies, Moret decided against asking his agent, Mel Berger at William Morrow Endeavor, to try to resell it.
Finally, this post is one of the best things I've read in a long while:
Will Self Publishing Make You Die???
There's one study that looked at the effect of social status on longevity. The researchers compared the lifespan of Nobel laureates to Nobel Prize nominees who didn't get the prize. The Nobel Prize winners ended up living on average 1.4 years longer than the nominees. Now remember that even the nominees were highly respected in their field and financially pretty well off. But being a laureate added over a year to the winners' lifespans!

Once I remembered this, I became highly agitated. Was it possible that self-publishing writers were jumping in without realizing the risk to their health? Should I warn people, or should I just sit back and wait for the coming holocaust? I could just see it — self published writers dying off in droves, 1.4 years before their time.

Luckily, I caught myself again and realized I was jumping too quickly to conclusions. Because many other factors contribute to your health. Among those is ability to control your circumstances.