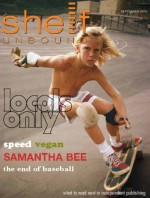 Via a press release from Wattpad:
Wattpad, the world's most popular eBook community, and Shelf Unbound indie book review magazine announce the launch of the Wattpad + Shelf Unbound Writing Competition for self‐published authors. The competition is open to any self‐published writer who has an active Wattpad account (go to www.wattpad.com/contests for further details). The winner, as selected by Shelf Unbound editors, will have their work published and promoted on Wattpad and featured in an upcoming issue of Shelf Unbound. Entries may be submitted through January 31, 2011.

"Shelf Unbound magazine features the best of small press, university press, and self‐published books, so we are thrilled to be partnering with Wattpad and its large community of online readers to spotlight great self‐published writers," says Shelf Unbound publisher Margaret Brown.
More about Shelf Unbound from Publishers Weekly:
It's not just books that are going digital—so are magazines about books. Shelf Unbound, a new publication set to launch in September in a digital-only format through the Zinio magazine platform for computer, iPad and other iOS devices, will cover small press books, authors, presses and trends, bringing the rich world of small, independent and university presses—many of which are only now making their books available digitally—to tech savvy readers.

Margaret Brown, the founder and publisher of Shelf, told PW that "The idea for Shelf was the convergence of a few things: my lifelong love of and career in magazines, an awareness of the breadth and depth and quality of books that do not make it onto the shelf of the big chain stores, and the delightful discovery of how mind-blowingly beautiful and exciting magazines are on the iPad." Sample pages shown to PW are indeed richly designed and take advantage of the iPad's beautiful display.
Looks like a very promising enterprise. More info at shelfmediagroup.com, including submission guidelines.