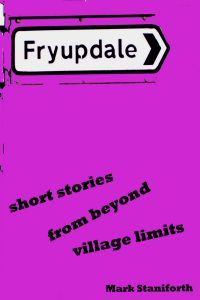 Hi, I'm Mark Staniforth, a writer from North Yorkshire, England. I've recently self-published my FREE collection of short stories, 'Fryupdale' on Smashwords.
Here's my intoductory Q and A:
1. How did you come to self-publish? Did you try to get published traditionally?
I'm still trying. I assume most self-published authors wouldn't especially mind an offer from Hachette dropping on their door mat. That said, I think the traditional publishing model needs to evolve. I'm excited by the emergence of e-books, and sites like Smashwords that facilitate their growth.
2. What self-publishing service did you use? Happy with the service?
Smashwords – it's entirely what you make it, and that's what I like about it. I also like that publishing on Smashwords makes your book available to almost all e-book formats across the board.
3. What avenues have you taken to market the book? Have you gotten reviews, interviews, TV, print media coverage?
After a slow initial pick-up, I made it free. Downloads are in their thousands. It might not mean thousands are reading the book, but it means far more are reading it than before, and long-term I think that's more worthwhile than a pocket-full of dollars. My book has been reviewed on a number of websites which have led to a dramatic increase in downloads (most notably manybooks.net) and quite a lot of blog buzz about it. It can only help my next project, a novel I've almost finished. One review called me a "British bad boy writer".  I liked it a lot.
4. What drove you to write this particular book?
I'd had a bunch of short stories kicking around on my computer for some time, and had had a number of them published in various web magazines. They followed a common theme, that of tough tales in a semi-fictional North Yorkshire village, so it seemed the ideal opportunity to experiment with the e-book world. I'm glad I did.
5. Is the book in any one particular genre? Is it a genre that's familiar to you?
I suppose I might get away with calling it dirty realism. It wasn't a conscious choice, it was just my natural instinct really. I can't read sci-fi, though that said, my collection does include a story about a supposed UFO sighting. So you know – something for everyone, and all that.
6. Who are your greatest writing influences?
Mark Twain – Tom Sawyer and Huckleberry Finn shaped not only my writing, but my life. I also like Tom Wolfe and more contemporary guys like Junot Diaz and DBC Pierre. The best book I've read recently is Knockemstiff by Donald Ray Pollock. It's possibly no coincidence that my stories, like his, are all set in the same small place.
7. What's your writing regimen? Any tips for keeping focused?
Switch off the internet. Anything else to do (washing up, chopping wood), do it before you start. Fight through when you think you're getting nowhere.
8. Would you self-publish again?
Definitely.
9. Any final words of advice for those looking to self-publish?
Don't price yourself out. Sacrifice the odd dollar or two to build a readership. Milk it all you can. When you've established yourself in cyberspace, that's the time to leap in with your best-selling novel!