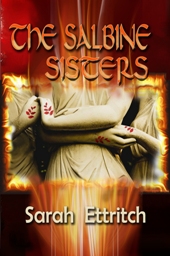 1. How did you come to self-publish?
It's an exciting time for self-publishers right now, especially in the digital arena. Not long ago the traditional route was the clear choice for fiction, but with the rise of online bookstores and now eBooks, it's a tougher call. Since my book The Salbine Sisters has well-defined target markets, self-publishing was the natural choice for me.
2. What self-publishing service did you use? Happy with the service?
I don't use a self-publishing service. I created my own imprint (Norn Publishing). I hire the editor, the cover designer, and anyone else I need to bring out a quality product.
3. What avenues have you taken to market the book?
Since my books are available in online bookstores, I focus on online promotion. I have a website for my latest book at http://www.fantasynovel.org, where people can read chapter one and learn more about the characters. I do online interviews (like this one) and participate in book communities like Goodreads. I'm in the early stages of submitting the book to various sites for review.
4. What drove you to write this particular book?
The same thing that always drives me to write: a story and characters I can't get out of my head.
5. Is the book in any one particular genre? Is it a genre that's familiar to you?
The Salbine Sisters is a fantasy novel. Since it has lesbian main characters, it's also lesbian fiction. Both genres are familiar to me.
6. Who are your greatest writing influences?
Everyone I read. One of the best ways to improve your writing is to read, read, read.
7. What's your writing regimen? Any tips for keeping focused?
I don't really have a writing regimen. When I can't focus and I'm spending too much time staring at a blank Word page, I do something else. I've learned that there will be days when it's not going to happen, and days when it just flows.
8. Would you self-publish again?
Yes, I would.
9. Any final words of advice for those looking to self-publish?
Do your research before you take the plunge, and hire an editor. You might get away with skimping on other steps, but not that one.