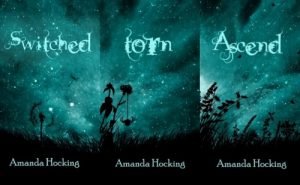 This sort of flies in the face of Barry Eisler turning down $500K, but if Amanda Hocking is being offering widespread print distribution, merchandising, film deal prospects, and other things she can't do on her own, it's not surprising if she takes a deal – even if she's already making a very good living on her own. From the New York Times:
Amanda Hocking, the darling of the self-publishing world, has been shopping a four-book series to major publishers, attracting bids of well over $1 million for world English rights, two publishing executives said.

Ms. Hocking, a 26-year-old Minnesota native who writes young-adult paranormal and dystopian novels, began self-publishing her books last year. Since then, she has sold more than 900,000 copies of nine books, mostly in electronic form, she wrote on her blog.

On Amazon.com, her e-books sell for $2.99 or $.99, well below the price of a typical newly released book from a major publisher. It is a lucrative model for the author: for a book priced at $2.99, Ms. Hocking keeps 70 percent of the revenue, and 30 percent goes to the online retailer.
Previously, she had these sensible things to say about traditional publishing:
Here's another thing I don't understand: The way people keep throwing my name around and saying publishers are "terrified" of me and that I really showed them.

First of all, no publisher is afraid of me. That's just silly. I'm one girl who wrote a couple books that are selling well. That doesn't scare them – they just want to be a part of it, the same way they want to be a part of any best seller.

And just so we're clear – ebooks make up at best 20% of the market. Print books make up the other 80%. Traditional publishers still control the largest part of the market, and they will – for a long time, maybe forever. Ebooks will continue to gain ground, but I would say that we have at least 5-10 years before ebooks make up the majority.

Saying traditional publishing is dead right now is like declaring yourself the winner in the sixth inning of a baseball game when you have 2 runs and the other team has 8 just because you scored all your runs this inning, and they haven't scored any since the first.
If you haven't seen this…
Update: Good post at Booksquare outlining the pros and cons for Amanda Hocking going mainstream, or Barry Eisler going independent. References this Idealog post, which makes this important point about Konrath and Eisler:
1. They didn't do the math on what the loss of print sales and print merchandising might mean in dollars and cents and how to address it.
What's amazing is that with the 70% royalty at Amazon and the 75% ebook royalty taken by publishers, and it potentially negates what you make from print. However, what you make and how many books you sell are very different issues. But if you're selling 1000 Kindle books a day, or more, it's fairly easy to forget about the readership you're losing from print.
Update 2: Actual astounding book deal (emphasis added):
St. Martin's Press, part of Macmillan, will publish Ms. Hocking's "Watersong" series, four books in the young-adult paranormal genre.

A heated auction for the rights to publish her books began early last week, and several major publishers, including Random House, Simon & Schuster and HarperCollins, dropped out as the price climbed into the seven figures.

The bidding eventually rose beyond $2 million for world English rights, said one publishing executive familiar with the negotiations. (St. Martin's declined to comment on how much it agreed to pay.) Ms. Hocking was represented by the literary agent Steven Axelrod.
I wrote to Amanda Hocking requesting an interview and she says she's going interview-silent to concentrate on writing. She's got a lot of time now…