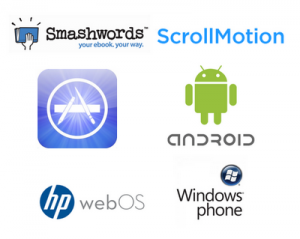 Via the Smashwords blog:
Smashwords books are coming to an app store near you.

Today we announced an agreement with ScrollMotion that will transform over 33,000 Smashwords Premium Catalog ebooks into individual mobile apps for distribution to the largest app marketplaces for smart phones, tablets and other mobile devices.

The relationship will gain Smashwords authors and publishers free entry into the app marketplaces for Apple, Android, Windows Phone 7 and WebOS.

Our partnership with ScrollMotion expands the distribution of our books to the largest, fastest growing app marketplaces, and will enable Smashwords authors and publishers to reach new readers.
Another reason why Smashwords is the place to be. While Ebookit and Bookbaby are good options for their conversion process – and Smashwords' meatgrinder is, frankly, a PITA – no other ebook distributor expands into new markets like Smashwords.
More about ScrollMotion.