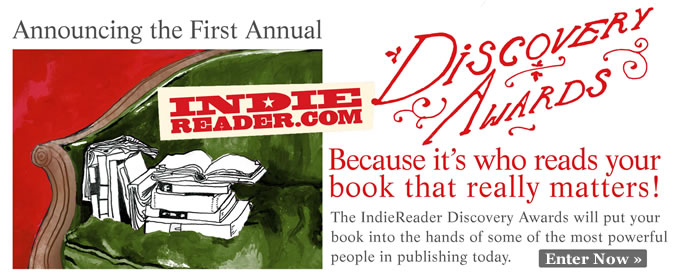 IndieReader's new Discovery Award is open to entries:
What do you get when you cross a bunch of great self-published books with extraordinary publishing industry professionals?  IndieReader's first annual "Discovery Awards" (IRDAs), where undiscovered talent meets people with the power to make a difference.

With the rush by traditional publishers to sign them and their noteworthy bestselling status, there's no longer much doubt that indie authors can be both commercially and creatively successful.  All that was left to do was create a credible vehicle by which to find them.

What makes the IRDA's so unique is their extraordinary panel of judges (click on "The Judges" tab to your right for the list), a who's who of some of the most important people in publishing today.

The IRDA's are open to all self-published books with a valid ISBN.  Judging will be based on the quality of writing and the originality of the story with the goal of finding talented writers and great books.  Entries will be accepted from July 18th, 2011 through February 29th ,2012 and winners will be announced on June 18th, 2012.
This seems a bit tailored to those self-publishers who are looking to break into traditional publishing, given the number of traditional publishers involved as judges.  But not entirely, given that I'm also going to be a judge – although I've never been one to advocate against traditional publishing, just against some of the criteria they use to select books.  So my own perspective will be to evaluate books based on the strength of the prose, not necessarily how that prose might do in the market.
TeleRead has a piece about the contest, and founder Amy Edelman comments,
IndieReader is not a "young organization" looking "to quickly add some legitimacy to its brand" by creating an industry award. Rather, we've waited 2 1/2 years to actually be legitimate before launching the awards.

Second, as both a traditionally and indie pubbed author I can promise you that no cash replaces the exposure that our panel of judges insures (in response to your assertion that, "these [prizes] could ostensibly be worth more to an unpublicized writer", I can assure you that there is no writer, perhaps short of James Patterson, who feels as if they're publicized enough.

And second, it used to be that the appearance of fine print that was suspicious. Now it's the lack of it. So, here goes (as I emailed you in response to your questions this morning) THERE ARE NO HIDDEN FEES. NADA. NOTHING.
I've won an Ippy Award, Hollywood Book Festival Award, and DIY Book Festival Award – all with an entry fee, and all with the "prize" of being able to say I won an award. This is actually more useful than it sounds – it's helped the book get attention in a similar way to if I had a publisher – it's got an objective stamp of approval. And for all those above awards, they had a nice dinner and ceremony (and I have a fairly awesome gold medal hanging in my office) but in terms of actually reaching out to industry people, the awards didn't really do anything. So this award could be helpful in a different way.