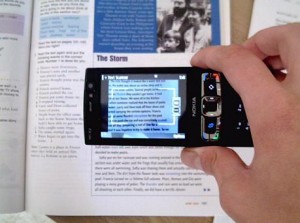 I received this email this morning from Amazon:
Dear Publisher,

During a quality assurance review of your title, we have found the following issue(s):

Typo/formatting issues exist that may have been caused by an Optical Character Recognition (OCR) problem. Following are few examples:

*Loc 1969; "kiss on the check" should be "kiss on the cheek"
*Loc 578; "I bum one" should be "I bum one"

At Location – 1924; the word "more" is missing between "even" and "doomed".

Please look for the same kind of errors throughout and make the necessary corrections to the title before republishing it.

If you have further questions, you may write to us by visiting this page:

https://kdp.amazon.com/self-publishing/contact-us/

Please be sure to reference your ticket number when contacting us.

Best regards,

Amazon KDP
Anyone else receive one of these emails? First time for me. It's an interesting attempt at quality control – and actually helpful, as it caught some typos I didn't catch. Though replacing "bum one" with "bum one" isn't very helpful.
Optical Character Recognition is normally used to convert printed books into ebooks, but the kindle bot is becoming a kind of editor – and will only get better. What it is not doing is saying: we will remove this from the store until you correct this error. So the quality control is voluntarily. More than likely, Amazon is using this software to spot duplicate spam books, which are becoming a problem. Will Amazon start deleting these books right away?  It would make sense if they did, though this poses potential problems.  As is the case with the Google algorithm, sometimes a spam blog can rank higher than the source of the original content.  So some authors could get hurt by this.  If Amazon had an efficient system for reinstating legitimate books, this seems like a necessary evil.
All said, I'm glad that Amazon didn't remove my book from the site because of a few typos, but if it spots 100 legitimate typos, would it then be OK?  Should people be free to publish whatever kind of book they want, even if it's unreadable?  These books are for sale, so it's a bit different than, say, someone using a free service like Blogger.  It's actually in Amazon's best interest to correct books – if people buy sub-par books over and over again, they may become less willing to part with their money.
Personally, I'm not against unpublishing a book that has 100 or more typos.  This is a nuts and bolts issue – typos only detract from a book and add nothing.  I'm supportive of the First Amendment letting people say whatever they like, but at least put an apostrophe in the right place.  As self-published e-publishing becomes the majority of new books being published, and recognition software gets more advanced, these are important new considerations.