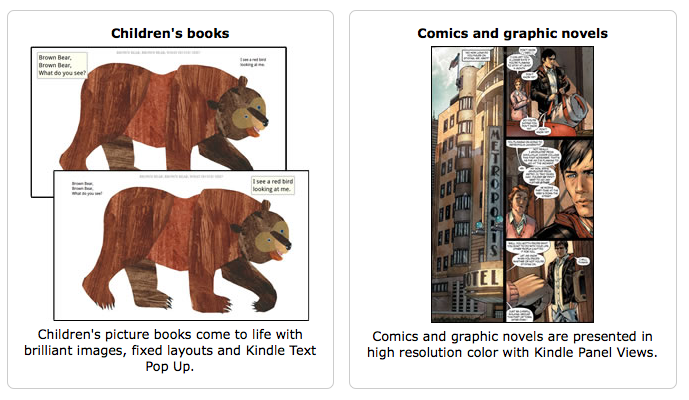 Kindle has released its specs for the Kindle Fire and beyond, which now support HTML 5.
We're pleased to announce a wide range of new features and enhancements – including HTML5 support – coming in Kindle Format 8 (KF8). KF8 is the next generation file format for Kindle books – replacing Mobi 7. As showcased on Kindle Fire, KF8 enables publishers to create great-looking books in categories that require rich formatting and design such as children's picture books, comics & graphic novels, technical & engineering books and cookbooks. Kindle Format 8 replaces the Mobi format and adds over 150 new formatting capabilities, including fixed layouts, nested tables, callouts, sidebars and Scalable Vector Graphics, opening up more opportunities to create Kindle books that readers will love.
So this is how they're competing with iPad, but also significantly: they're sticking with HTML – meaning they're not going to go with ePub as their standard, like the rest of the industry.
This doesn't make formatting for the Kindle exactly easy.  But their engine for converting straight from another document, rather than messing with code, is getting better. Already, it's easier to convert straight from Word for a text document (not seamlessly, but better than the past), so document conversion will have to be available for novice users. They note:
Upcoming enhancements to Kindle Publisher Tools will make it easier and faster for publishers to create high quality Kindle books. KindleGen 2 (available soon) creates Kindle content from a wide variety of sources including HTML, XHTML, and EPUB.
For advanced programmers, the new specs offer a lot of versatility. Here's a list of the HTML commands now available.