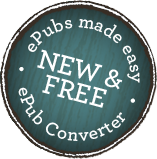 Lulu has seen the writing on the wall and is going full bore with ebooks, moving away from its print on demand model.  They recently came out with an ePub converter (good), but are now automatically distributing books to the iBookstore and Nook (not as good). I just received this email:
Lulu wants to make sure that your title is available to every potential customer on the planet, starting with the 120 million+ readers who own an iPhone®, iPad®, or iPod touch® or Barnes & Noble's NOOK™ brand of e-reading products and shop at our eBook distribution partners.

You can check the status of your book on the iBookstore by clicking here. If it has not been uploaded already, please note that it may take a few business days from the time you receive this message for your title to be listed on the iBookstore. Moreover, we have submitted your book to Apple at no charge, but this does not necessarily guarantee listing on the iBookstore.

Your title should also appear the Barnes & Noble NOOK Bookstore. To find for your title, simply click www.barnesandnoble.com/ebooks and search for your title's ISBN: 9781257152049.

We've also placed your eBook project in your My Projects list on Lulu. You have full control over the project, and can manage your ebook distribution, remove your title, change the price, etc., at any time by clicking here.
This would be fine had I also not distributed this book via Smashwords many years ago, so now these channels are getting duplicates of my books. I'm unclear if they will just ignore it, or if they'll accept the book with the more favorable price – higher on Lulu, lower on Smashwords. I can just go in and stop this from happening, but I shouldn't have to. Lulu knows how many people distribute via Smashwords, especially in lieu of them not having a distribution option for so long – so automatic distribution was not a smart move. If you've published the same book on Lulu and Smashwords (or used Pubit), this is something to keep an eye on. Here's how to opt out:
If you would like to opt-out of the Apple iBookstore submission process, simply reply to the offer email or email ipad_opt_out@lulu.com and include "Opt-Out" in the subject line of your email. No further information will be needed. Please reply within 5 business days of email receipt.
Update: This is actually a problem. On the search results page, this is what it looks like: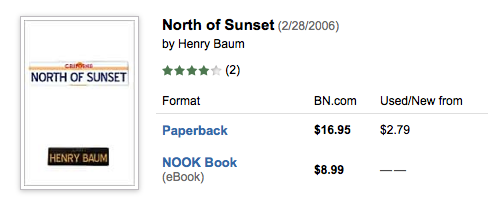 Exorbitantly expensive, because Lulu set the price to $6.74 (this can be changed, and changed to $0, with a $1 minimum to receive revenue).
The better version only gets listed on the results page. Here's the product page:

It's important to check this price disparity.  On the one hand it could look like readers are getting an $8 discount – on the other, and more likely, hand, readers probably wouldn't even get that far when they first see the price to be $8.99.