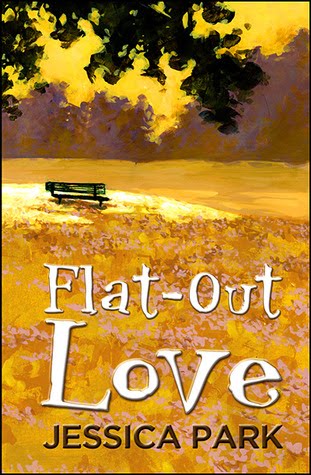 In some ways, this was a modern tale of Mary Poppins, only this family is a bit more tragic.  While Julie is seeking independence from home and moves away to attend college, she moves in with a family friend.  Witnessing firsthand how far independence can push away people, how pain and time do stand still when not dealt with, and that people only see what they want, Julie faces some hard truths and realizes that nothing is ever at it seems.
I FLAT-OUT LOVE this book, love the characters, and thought the book dealt with issues everyone can resonate with. I cried, I laughed, and overall enjoyed this book!
I could actually picture Celeste carrying her Flat Finn, when I looked at my son's picture.  The family is rather accepting of Flat Finn's place in the family, giving him a place setting at the table and having him lie around the house (literally!).  While everyone is obliging to Celeste and Flat Finn, Julie realizes that he is preventing Celeste from being independent and moving on from whatever it is that is keeping Celeste too attached to Flat Finn.  Helping Celeste with her anxiety and teaching Celeste that it is okay if Flat Finn isn't always around, after all boys are not allowed to go shopping, Celeste learns that it's okay to try new things and that not all change is bad.  Julie does this by slowly changing Flat Finn when she addes hinges to him to help him bend and sit better.  However, as the hinges go on, the family also becomes slowly unhinged.  In the end, the family learns to rely on each on other and help each other move past their grief and pain.
Without singing and flying, Mary Poppins (a.k.a. Julie) brings happiness to the family, has them confront the inevitable, and finds a little love along the way, too.   Julie deals with the absence of her father by making excuses, as does the Watkins' family with Finn's absence.  Traveling to different areas of the world, Finn stays connected with his family and Julie through Facebook.  The Facebook statuses of Matt (Finn's brother), Julie, and Finn are quite funny and set the tone for each chapter.
Jessica Park has written a beautiful storyline about love, loss, forgiveness, and letting go.  Some may think Julie saved this family, but I think they saved each other and gave Julie also a sense of family and belonging.  In the end, don't we all want love despite our own quirkiness and nuisances?  I love that Jessica Park addresses heavy topics without the storyline being too heavy and bogged down, as well as letting Julie experience love without the hot and steamy sex that is found in YA books.  I appreciate that and appreciate that smart girls and smart boys can also find love amidst fractions and formulas, too!
I highly recommend this book!!  I also want to give a special thanks to Lori for not giving up on me reading this book in a format my reader could handle and for making sure I got this book in my  hands!!!  She also helped proofread this book!!
Quotes I loved:
"Normal people can become very annoying if put in annoying situations." (p. 36)
" There wasn't anything she could do to fix this- she could put hinges on Flat Finn, but there no hinges for grief and deception."  (360)
Rating: 5/5