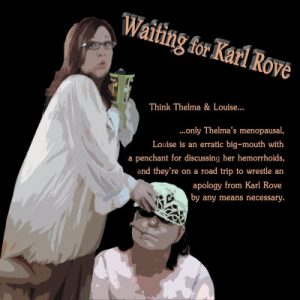 By "controversial" I mean, "books I can't imagine traditional publishers taking a risk on in this dicey economy."
Waiting for Karl Rove is one of those books. It's irreverent satire, chock full of politically incorrect content, and the "characters" (aside from ourselves) are public figures, mainly in the political arena. Not to mention that it's kind of a lampoon against the publishing industry, as a whole. So, yeah, risky.
We did get some good feedback from a few agents and small publishers, who chuckled at the cheeky query letter, and wished us good luck, Godspeed, and many happy returns (probably while deleting our initial query from their inbox after sharing it with everyone within a fifty mile radius and guffawing at our unmitigated gall).
The industry doesn't seem willing to take risks at this point, and with the economy the way it is, that's understandable.
Because I have two books being traditionally published this year – Far From Happy (PD Publishing) and I Wish I Were Engulfed in Flames (Skyhorse Publishing) – we thought having this self-published title available when the other books come out, might help sales.
We do have a plan. Is it a good one? Hell if I know. We'll have to wait and see. We've been marketing on the internet every day. I know it's going to take a lot of work to get book sales moving. We're prepared to do that work. I think the important thing for ANY author to know (self-published or otherwise) is that they WILL have to market their work. There's no getting around that. The books won't sell themselves.
Writers, in essence, must become Self-Promo-Ho's. Did you ever see "Glengarry Glen Ross"? Well, those of you who have, know you can't be Shelley Levene. You have to be Ricky Roma and channel that used-car-salesman vibe – sell, sell, SELL yourself. Nobody's gonna do it for you.
So, in the end, self-publishing this book was a chance we were willing to take.
Now for the questionnaire. (Couldn't we do James Lipton's Actors Studio questionnaire, instead? No? Ok, fine…)
1. How did you come to self-publish? Did you try to get published traditionally?
I believe I answered that one… mostly. We didn't do much querying after the initial round. This book, in particular, given the political climate, has content that wouldn't be as relevant in a few years (which is often how long it takes from query to store shelves), though I do think the humor stands on its own. It's just a crazy, madcap, irreverent road trip memoir.
Think Thelma and Louise—only Thelma's menopausal, Louise is an erratic big-mouth with a penchant for discussing her hemorrhoids, and they're on a road trip to wrestle an apology from Karl Rove by any means necessary.
2. What self-publishing service did you use? Happy with the service?
We used Createspace through Amazon. Yes, we're happy with the service, thus far. Although formatting a book and getting it ready for publication yourself is a huge undertaking, it can be done. You need attention to detail and… patience. Lots of it. It helps that I have done a great deal of video production and am good with Photoshop. I think bad book covers are a big reason for low sales on internet marketing sites. Bad editing, as well. I don't suggest self-publishing before putting your work through a lengthy workshopping and editing process. Also, this book has over 600 footnotes, so formatting THAT was a slow walk through hell. But, we did it, and the book looks great.
3. What avenues have you taken to market the book? Have you gotten reviews, interviews, TV, print media coverage?
We've scheduled blogger interviews and reviews, and are starting to work with Facebook, Twitter, and other social networking sites to get the word out. We also sent out press releases. Make no mistake, this "marketing" business is (and must be) a full time job when you self-publish. We've just started, and my hemorrhoids are already killing me from sitting in one place (in front of the computer) all day long.
4. What drove you to write this particular book?
As writers (at least this writer) I think it's sometimes our job to shine a light on things, to push that bruise – to hold up a microphone and record the voices who are speaking loudly (and not speaking loudly). This can be done in fiction and non-fiction. Books are great entertainment, but my favorite types of books are the ones that have something to say, though you're so entertained or moved by the work, you don't realize it as you're reading.
5. Is the book in any one particular genre? Is it a genre that's familiar to you?
Kat and I love observational satire. So this was a walk in the park for us. I've never had as much fun writing as I did on this book.
6. Who are your greatest writing influences?
David Sedaris, Oscar Wilde, Edward Albee, Rufus Wainwright (songwriter, but an amazing lyricist), Augusten Burroughs – those are some of mine. Kat loves Dan Jenkins and Christopher Moore.
7. What's your writing regimen? Any tips for keeping focused?
It's hard to keep focused in my house ( I'm the mother of two autistic boys – enough said!) but I find that if I only sit down to write when I have a burning need to do so, that works for me. In between, I jot down ideas and notes. I know many writers say they need to write every day. I don't have that luxury, but I do blog as much as I can, and write short stories and poetry to keep that "word economy" muscle from atrophying.
8. Would you self-publish again?
Certainly.
9. Any final words of advice for those looking to self-publish?
WORKSHOP, WORKSHOP, WORKSHOP. As many eyes on the work before publication, the better. Having said that, I think as a writer you must have developed the ability to take the advice that you know works for your story, and discard the rest. Also, I'm a big believer in "voice." Voice is king. Plot, story arc, all that "writerly stuff" is important, but without voice, and without taking RISKS, it's hard to get your work to stand out from the rest of the stuff out there. My favorite quote: There is no distinction without risk.
Now, I can't resist ending with the Lipton questionnaire…
What is your favorite word? Spelunking
What is your least favorite word? Laundry
What turns you on? Hugh Laurie as "House" and Rachel Maddow as herself. I like my men cranky and my women smart and sassy.
What turns you off? Comb-overs
What is your favorite curse word? I'm partial to the f-bomb, but ass-hat is just plain funny.
What sound or noise do you love? The sound of bacon frying.
What sound or noise do you hate? "Mom, can you help me?" (being whined at a high pitch from the other room)
What profession other than your own would you like to attempt? Teacher. I've worked with elementary level kids on different projects, and though teachers are HIGHLY UNDERPAID (say it with me, people!) the rewards from teaching far outweigh monetary compensation.
What profession would you not like to do? Septic tank sucker guy – who charges me $250.00 a pop every time my autistic 9 year old stuffs too many baby wipes down the commode.
If Heaven exists, what would you like to hear God say when you arrive at the Pearly Gates? Ooh, honey – have I got a surprise for YOU!
And now for your moment of Self-Promo Zen – (because self-published AND traditionally published authors are nothing without promotion and if you thought you were getting out of here without me providing a link, you're nuts.)
Waiting for Karl Rove AVAILABLE AT AMAZON.COM