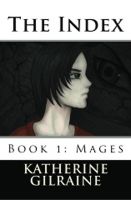 Info on filling out this interview here.
1. How did you come to self-publish? Did you try to get published traditionally?
At the time that I was editing the first book of my series, I was querying agents for a good year. I've gotten good feedback, but not one agent had ever said, "Send me the rest of the manuscript." And it had gotten to where I had, at the time, two and a half manuscripts, and about two rejections per chapter.
I gave myself a promise that if by my birthday I wouldn't secure an agent, I would do it myself. I had a free proof copy code from CreateSpace, and when my birthday had come and gone, I decided to go ahead and see the self-publishing route through. I didn't look back since.
2. What self-publishing service did you use? Happy with the service?
I used CreateSpace for hard-copy printing, and I went through Amazon & PubIt for e-publication for Kindle and Nook, respectively. I've had no complaints whatsoever, the templates are fantastic, and the staff had been most helpful when I asked them for assistance. I plan on staying with them for as long as I can. Same goes for Amazon & PubIt for e-pub.
3. What avenues have you taken to market the book? Have you gotten reviews, interviews, TV, print media coverage?
I've advertised by business-car-size flyers in the past, and have been interviewed by a local TV show in Queens, NY, Talents Unlimited. The TV interview was great fun, but the best marketing avenue I found was social media. Facebook and Twitter are excellent for exposure.
4. What drove you to write this particular book?
It was a combination of my love of mysteries and fantasy, combined with wanting to write a story that grows with its readers. At the time that I was laying out the story in the back of my mind, I asked myself constantly, "How would I feel if I'm reading this?" "How do I want people to feel when they're reading this?" It helped shape the overall tone of the series, and how the characters interacted with one another. The main thing I wanted was to always leave room for them to grow: make errors, fix them, and (eventually!) learn from them. It's important for me to write that sort of a story, and in this sort of a setting.
5. Is the book in any one particular genre? Is it a genre that's familiar to you?
The Index Series is best classified as urban fantasy, but it's not a genre I read often. I love my history, mystery, and thrillers, and I'm known to pick up a fellow fantasy story, but it has to find space between Stephen King and the social structures of the Tudor court!
6. Who are your greatest writing influences?
I won't lie, Stephen King is definitely an influence, but I was a Caroline B. Cooney fan as a kid, and I enjoyed the way that she was able to keep then-15-year-old me focused on the story as well as dissecting the purpose behind each scene. Stephen King is just plain masterful with his imagery.
7. What's your writing regimen? Any tips for keeping focused?
I write whenever the mood strikes, which is quite often, and my focus usually comes in a cup with milk and sugar! I kid you not; coffee is one of the best focusing agents to a writer. I usually commute with a notebook or my mini-Netbook, so I can just write whatever comes into my head.
8. Would you self-publish again?
Yes. I've done so with the sequels to my first book, and have every intention to continue.
9. Any final words of advice for those looking to self-publish?
First things first, and I will make no bones of this, self-publishing is not easy. Unlike a trad-pub medium, you do not have a marketing team, a cover designer, or an editor. It's you and your manuscript against the world. It takes a lot of work to get it from first draft to perfect proof, and if my first book (of total 3 published and 5 completed) is any indication, you're in for several years' worth of revisions. You're also in for a metric ton of marketing work as well. But the reward is the knowledge that you have written and released a book on your own is incomparable. It's a wild ride, but the euphoria is amazing.
——
Katherine Gilraine is the author of The Index Series. She resides in NYC, and has been working on the series since 2006.