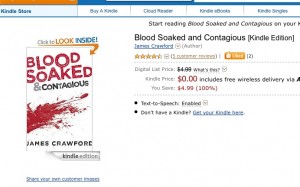 A cautionary tale this week about a writer whose book was set to free for the Kindle by mistake. Amazon saw a free preview on Barnes and Noble as being a complete book – and so given Amazon's policy to never have a higher priced book than any other outlet, they matched the price of the free preview.
For some, this is good news – it means you can get your book set to free on Amazon if you want to do a free promotional blitz.  Just set to free on Smashwords – it'll distribute as free to other outlets, and Amazon will match that price (I've done this).  Trouble with this is that it can be difficult to set your book to a price again once the free term is over.  I've also had this issue – I've reset the book to a price and it's taken months for retailers to make the change.
However, if you don't want your book to ever be free, this could cause real damage.  In the case of the writer above, he gave away 5000 books for free before he noticed the error.  In his case, he was only selling a handful of books a day, so you can't really say that he necessarily lost a lot of money.  I'm of the opinion (as are many who've commented about this) that it's better to have the exposure of 5000 new readers then to have sales trickle in.  This story itself has gone viral in a big way, which can only help an author.
If a bestselling self-publisher ran into this issue, it would be a bigger problem, as they would have lost thousands of dollars in revenue due to Amazon's error – roughly $20,000. As a commenter writes on a subsequent post on James Crawford's blog, there is no real legal recourse otherwise:
If your book had stayed on sale, not free, can you guarantee without the shadow of a doubt you would have still sold 5,000+ copies of the novel in that span of time? Because if not, then there's no case–you haven't lost anything because you wouldn't have made the sales to begin with. You would be forced to prove that you would have made the sales for there to be a verifiable financial loss due to Amazon's mistake (because they did, in fact, make a mistake). But there's no way you can prove that unless you can show that your novel's sales were trending significantly in that direction or you had a history of sales that high.
Regardless of a writer's popularity, it's wrong and Amazon made a mistake, and the problem is that writers are not really protected should this ever happen again.  Amazon replied:
We're sorry, we're unable to pay royalties for your sales when your title was listed at $0 on our website. As per our KDP Terms and Conditions, we retain discretion over the retail price of a Kindle book.
This is from Amazon's terms and conditions:
THE PROGRAM IS PROVIDED "AS IS." WE WILL IN NO EVENT BE LIABLE FOR ANY LOSS OF DATA, LOSS OF PROFITS, COST OF COVER OR OTHER SPECIAL, INCIDENTAL, CONSEQUENTIAL, INDIRECT, EXEMPLARY OR RELIANCE DAMAGES ARISING FROM OR IN RELATION TO THIS AGREEMENT, OR FOR ANY EQUITABLE REMEDY OF DISGORGEMENT OR OTHERWISE, HOWEVER CAUSED AND REGARDLESS OF THEORY OF LIABILITY.
That's the main thing they write in ALL CAPS. So basically: be aware of this because if it happens to you, you're out of luck.
Meanwhile, another writer has a method of gaming the system to be paid 70% royalties on a 99 cent book – normally reserved for $2.99 and up. I'm not advocating this strategy, just presenting it: How to make a 70% royalty on a 99-cent Kindle ebook. His process:
1. List your book for between $2.99 and $9.99 in the KDP2. Choose the 70% royalty option
3. List your book through Smashwords for 99 cents
4. Amazon will eventually "find out" the discrepancy and start discounting your book to the Smashwords price
5. All your readers are still paying 99 cents wherever they buy your book (Amazon, Smashwords, iBookstore, etc.) but you're making twice as much in royalties on your Kindle sales
The problem with this is if a retailer offers their own discount below 99 cents – say Kobo offers it for 89 cents – then Amazon won't set the book for free or offer it for 88 cents, they'll remove the book entirely because pricing a book below what you've set in KDP is against their terms. But also: sometimes they won't notice the issue, as is the case with this writer. It's a gamble, and Amazon's pricing bot is obviously not a perfect system.
We're still in the wild west with ebooks, so chances are issues like this will get ironed out as Amazon's pricing bot gets more sophisticated.  The safest bet is to price books above the price you set at Amazon. Amazon won't discount the eBook, but you also won't run into any glitches.