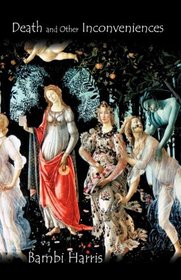 I have finished reading books one through three in the Afterlife Series and I am so enjoying this series that I just have to share with you.
First, Bambi Harris is no stranger to writing. She has done much research on history and the paranormal and it shows in this series. She is from Australia and lives now in the US. She also does Creative Writing Classes. The woman is well versed in the creative writing process and has self published her books with iUniverse.
So, I come across her second book, Ghost Retrieval and Cappuccino. Well, anything to do with coffee and ghosts sounds good, so I bought the Kindle book. I was hooked. And I was delighted when, after finding the author on FaceBook and chatting with her, she sent me her first book, which is not in Kindle format. I have since purchased the third book in Kindle format.
So, what is the Afterlife series? Well, it starts in book one Death and Other Inconveniences. Penny Lane is murdered on her 30th birthday. And then her Afterlife started.
She is given a job as a melter, where she decides if murderers are to be reformed, reincarnated or melted. She has the bitch boss from hell. She becomes very popular. She meets up with her dog Rufus and her girlfriend, Pauline. She meets the man of her dreams – a medieval hunk named Adam. She also has a friend Avery and there are a few angels to give this book some pizazz. It is a wonderful introduction to the series.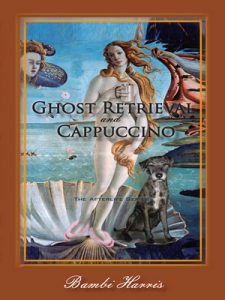 In the second book Ghost Retrieval and Cappuccino, Penny is unemployed as a result of her last adventure, has a new house, still has Adam and Rufus and Pauline is helping her out. But changes are in the wind as Avery knocks on her door to tell her she has a new job – retrieving hard core ghosts from earth. Penny is the new counselor for these souls. She also has to solve a few of her own issues. And then, there is Eric… a crazy hippie Angel who works with Penny and Avery in this new job. This is a delightful romp and the introduction of the new character only adds to the character base.
The third book Past Lives and Borrowed Bodies, Penny finally comes to grips with her own death. But she finds herself being bounced from body to body by an evil soul she bumped into previously and inadvertently discovered has a personal agenda which he cannot allow anyone to find out about. She is hidden by her friends, but still gets bounced around, finally into past lives of her own. There are lessons to be learned, souls to meet and a killer to catch.
These books are delightful to say the least. The characters are well developed and the story line consistent. Her historical scenes are fairly accurate and she builds them from reality which stretches into her fantasy world. While dealing with death, it is never heavy or dark. The story is perfect for teens or adult. The writing style is superb, it flows, never staggers or falters.
I would categorize this series as paranormal romance; light and witty. The first book is available as printed format only at this time, but the second two books are available as e-book downloads.