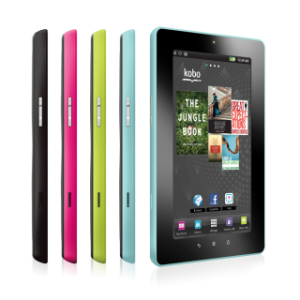 David Gaughran has a comprehensive post about Kobo's recent buyout by a Japanese firm. In the U.S., Kobo doesn't get a lot of love – sales are slim on Kobo compared to other outlets, and the Kobo reader doesn't really stack up to the Nook or the Kindle.  Plus, there was the recent discount fiasco, where Kobo discounted Smashwords prices below the 99 cent threshold on the Kindle, causing Amazon to remove titles from the site (this happened to me, right at a time that I hit the top 100 via a Kindle Nation promotion).  That's since been cleared up.  And now Kobo establishes itself as having a major international presence.
The news from Engadget: Rakuten signs agreement to purchase Kobo
Gaughran writes:
Rakuten are a huge international internet services, online retail, and e-commerce company with 10,000 employees, a market capitalization of around US$10bn, and major operations in Brazil, Germany, Taiwan, China, Thailand, Indonesia, as well as, of course, their home country of Japan (where they are much stronger than Amazon's local operation).

They also own Buy.com after purchasing them last year for $250m, bought the UK-based Play.com in September for $40m, bought the busiest e-commerce site in France last year for $270m, and have significant interests in developing markets such as Russia.

In short, they are strong where Amazon are weak. Many Asian countries, including Japan, can't even purchase e-books from Amazon, although a Kindle Store has been rumored for both Japan and China recently.
He continues:
The international book trade is estimated at around $90bn, of which, the US is responsible for about 30%. However, exclusively measuring the trade by revenue generated can lead to analysts vastly underestimating the potential size of international e-book markets.
How much of the $90 billion international market is for English language books?  Only a percentage, but that percentage is growing yearly:
David Naggar, VP of Global Kindle Content, said Amazon has now sold millions of English-language e-books in foreign countries—twice as many it sold in 2010. And Kobo's Michael Tamblyn, VP of content, sales and merchandising, said Kobo's English language e-book sales to non-English-speaking countries are up 300 percent this year compared to last year.
The worldwide conversion to English is happening alongside the ebook boom – even in  Asian countries.  Still, it's only a percentage of overall sales internationally. English self-publishers will likely to get the bulk of their sales in the UK, States, and Canada – and on Amazon. Some have had success on Kobo, but not nearly the success as the Kindle.
The Paid Content piece says that availability of ereaders and the price of ebooks from out of country outlets are the main things keeping the international ebook market from really booming.  This Kobo deal solves that.  Amazon is now in the position of playing catch-up, rather than driving the industry, as they do in the States.
This development really adds extra incentive to get a self-published book translated. And then upload that book (or books, depending on the # of languages) to Kobo, even before thinking about uploading to Amazon.  Kobo has announced its version of Amazon's KDP, which is due to rollout in early 2012.  There's some ambiguity whether or not this is possibly going to be their version of Amazon Encore – i.e. becoming a full-fledged publisher – but chances are Kobo KDP is somewhere in the mix, as they're trying to take on Amazon. What could also happen is this move signals that Kobo might become to translation of indie writers what Amazon has been to scooping up successful English-language indies – that's TBD.
At the very least, opt-in for Kobo distribution at Smashwords if you haven't already – though there is a serious backlog for distribution between SW and Kobo. Many books are in limbo.  It may just be the case that the Kobo KDP goes live before Smashwords distributes its entire backlog.  Many self-publishers are publishing to the Kindle directly, and Smashwords for everything else.  Now it might be the case to add Kobo to the list of direct self-publishing.