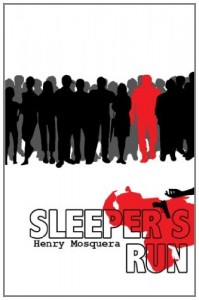 1. How did you come to self-publish? Did you try to get published traditionally?
I did, but after 183 rejection letters, it was clear I was on my own. At the time I had invested over three years of my life researching, writing and working with editors on Sleeper's Run. I wasn't about to throw away all that time, money and effort—plus quitting is not really my style—so I rolled up my sleeves and started to learn about self-publishing.
2. What self-publishing service did you use? Happy with the service?
I used Createspace for my paperback and Publish Green for my ebooks. I'm happy with both of them. They have good customer service and are easy to use, but there is room for improvement. Createspace sets the prices for their books too high to be competitive with established authors. Publish Green has a quarterly sales report that has proven too impractical for me. As a self-published author, I need to have that information sooner to be able to allocate my resources accordingly. The good news is Publish Green has told me that they are in the process of changing this for monthly reports.
3. What avenues have you taken to market the book? Have you gotten reviews, interviews, TV, print media coverage?
I've done everything I can to promote Sleeper's Run within my means: press releases, reviews, interviews, social media (Facebook, Twitter, etc.), blogs, Internet and newsletter ads, internet quizzes, giveaways, merchandising, blog tours, book awards and even a pretty cool book trailer. TV, print and radio are just too expensive.
4. What drove you to write this particular book?
I love thrillers. It's my favorite genre. I've wanted to do a story dealing with interventionist politics for a long time and I've been playing with a few ideas in my head that I thought would make a compelling thriller. Yet, it wasn't until I melded those ideas with the current political situation in Venezuela that it sparked the inspiration I needed to write the book.
5. Is the book in any one particular genre? Is it a genre that's familiar to you?
Sleeper's Run is a political thriller with elements of action. Like I said before, thrillers are my favorite genre. However, Sleeper's Run was based on non-fiction sources, of which I'm also very familiar. It was these sources that compelled me to write the book. At the time, I wasn't too familiar with what has been called "the tough-guy genre." But interestingly enough, the book began to develop in that vein. It became clear early on that it was going to take a certain type of character to make the story plausible.
6. Who are your greatest writing influences?
James Clavell's Shogun was a great influence to me as a kid. Arturo Pérez-Reverte, Frederick Forsyth, John le Carré, Junot Díaz and Carlos Ruiz Zafón have also been great influences.
7. What's your writing regimen? Any tips for keeping focused?
Depends on what I'm doing. For Sleeper's Run I went through a lengthy research process: books, documentaries, articles and interviews. As well as going through urban survival training, flying lessons, knife and gun handling, first aid and other relevant training to supplement my knowledge in martial arts, traveling, etc. I'm self-employed, so when I had a project, I would work eight hours and write at least six (including weekends). Between jobs, I would put in at least ten hours during the week and six to eight on weekends. Sleeper's Run was a very demanding book; there was a lot of re-writes.
I'm very focused and disciplined by nature. I would sit down in front of my computer and write even if I had no desire to do so, or very little to go by in a particular chapter. I approached it like I would any job. There were times I would trash a whole day's work. Regardless of the outcome, I will always write. As much as I like the story, it was my love for the characters that kept me engaged.
8. Would you self-publish again?
I'm of two minds about self-publishing. On one hand, all I want to do is tell stories. Being an independent author means I have to run my own publishing house and essentially do everything: Hire editors, proofreaders, layout the different book formats, deal with marketing, advertising, distribution, etc.  It takes a lot of time and resources away from researching and writing. On the other hand, there's an undeniable freedom to self-publishing. I can write whatever I want regardless of the current trends, get to change and design my own covers, offer my work faster than through a publisher, and basically present my work as I see fit. I would definitely self-publish again, but I can't deny it would be nice to only have to worry about writing and promoting my work.
9. Any final words of advice for those looking to self-publish?
The Internet has made self-publishing relatively simple and accessible. What nobody tells you is that the real challenge lies in selling your book. Competition with both regular and independent authors is fierce. Getting any sort of attention to your work is a monumental task and the minute you give up, that's the moment your book is dead. Your work won't sell itself. Writing is probably the most underrated of the arts. After all, a large portion of the world's population can put sentences together and everyone has plot ideas. Add to that the romanticized notion of  writing the next great American novel, and you can begin to see how people could get the wrong idea of what it is to be an author. Writing is a tough vocation and demands a lot of work. My advice to any aspiring self-published writer is to do some research before jumping into the independent market and contemplate if it's really worth the effort. Your love and belief in your work is what ultimately will sustain you throughout the process.