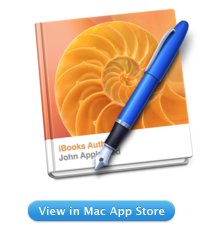 Maybe it's great – but I'll never know. Sounds great, in theory:
Now anyone can create stunning iBooks textbooks, cookbooks, history books, picture books, and more for iPad. All you need is an idea and a Mac. Start with one of the Apple-designed templates that feature a wide variety of page layouts. Add your own text and images with drag-and-drop ease. Use Multi-Touch widgets to include interactive photo galleries, movies, Keynote presentations, 3D objects, and more. Preview your book on your iPad at any time. Then submit your finished work to the iBookstore with a few simple steps. And before you know it, you're a published author.

Apple-designed templates
• Give your book a great beginning with templates that include a choice of page designs with matching fonts, colors, and textures
• Easily customize your book with text and images, create new layouts, and even save a custom template
• Use the Book Navigator to organize your book and add a cover and table of contents

Beautiful text and layouts
• Use a variety of text styles in each template to give your book a rich yet consistent look
• Add text, shapes, charts, tables, and media anywhere on the page
• Import a chapter written in Pages or Microsoft Word and apply a great-looking layout from your current template
• Add any word to the glossary with a single click and easily include photos, images, charts, tables, and shapes next to any definition
• Automatically create a portrait view of your book, which allows readers to focus on the text

Multi-Touch widgets
• Choose from a variety of widgets that add Multi-Touch interactivity to your book
• Add a photo gallery, chapter review, movie, Keynote presentation, interactive image with callouts, 3D object, or custom HTML anywhere in your book
• Widgets include placeholders for titles and captions and are automatically numbered so you can reference them in your main text
• Add accessibility descriptions to any widget so that it can be used by sight-impaired readers easily with VoiceOver
That "Now anyone" needs to be rewritten. In eager anticipation of the new ebook app, I found this:
Requirements: Mac OS X 10.7.2 or later
I'm using 10.6.8 – a new i5 iMac I just bought, so I'm not about to upgrade for a single app. So not only does this put the app off limits to Windows users, it's off limits to most Mac users. One of the worst features of the Mac is being forced to buy new hardware to keep up with the software. The reason that I bought the iMac was because my laptop couldn't run Logic 9. So I'm not about to do it again. This really seems aimed at high-end graphic designers, or wealthy schools – not self-publishers.
I'm glad that Apple's going down this road and offering this capability, but until it's a cross-platform app like iTunes that is available for all operating systems, it's a highly-niche app that's hardly going to break open the self-publishing industry,
Self-publishing is about ease and availability. It's about breaking down the barriers and making the tools available to everyone. This doesn't fit that. You don't need software to access the Kindle KDP – you just need an internet connection. If this was going to be the thing to rival KDP, Amazon doesn't have to worry.
Update: I may have gone too far with my annoyance at updating to Lion – but 1. It is an extra expense for a "free" app and 2. Updating an OS is not always a seamless process, as happened with my last update, which broke my computer.
But beyond that, there are problems with the app beyond the software required.  First, it requires exclusivity – so this isn't an epub tool you can use to distribute on other sites. It's Apple-only.
See: The Unprecedented Audacity of the iBooks Author EULA
So, to paraphrase: By using this software, you agree that anything you make with it is in part ours. But if it can say that and have legal force, can't it say anything? Isn't this the equivalent of a car dealer trying to bind you to additional terms by sticking a contract in the glove compartment? By driving this car, you agree to get all your oil changes from Honda of Cupertino?

Apple, in this EULA, is claiming a right not just to its software, but to its software's output. It's akin to Microsoft trying to restrict what people can do with Word documents, or Adobe declaring that if you use Photoshop to export a JPEG, you can't freely sell it to Getty. As far as I know, in the consumer software industry, this practice is unprecedented.
Jon Konrath has a very good comment below.