Has self-publishing lost its way? The reason that I got interested in self-publishing was because of the traditional publishing industry's obsession with marketing over the quality of books. It seems like the vibe around self-publishing these days is echoing trad publishing's marketing obsession. I understand wanting to sell books. I'm desperate to sell books as well and I check my KDP account more than is healthy. But: book sales are not the only reason to write, and it's also not the only reason to market a book.
JA Konrath has a post about how publicity doesn't lead to book sales. David Gaughran wrote this comment, which acts as a kind of companion piece to his post,Why is My Book Not Selling?
I was interviewed by two national newspapers here in Ireland over the last few months. As luck would have it, the interviews ran on Saturday and Sunday – two huge double features on self-publishing, with big chunks of quotes from me, and mentions of books etc.

I suspected it would do little for my sales, and it did exactly nothing. Now, it's nice for my friends, and especially my family – this stuff is important to them, and maybe it will open some doors for me – who knows. And maybe it gets my name out there a little too, so the next time somebody comes across my books, they might be (slightly) more inclined to check them out. Maybe.

But there is no sales spike from this stuff. I couldn't attribute one extra sale to being featured in the two biggest weekend papers in Ireland (that are read by pretty much everybody who reads books). Zero.
They're right, in part. Press doesn't always move books. Back in the day, my novel was reviewed by the biggest self-publishing reviewer going (back when there were 5): Poddy Mouth. I was mystified and sort of heartbroken that the post didn't lead to many sales. Read that as: zero sales. It did eventually: her selections were picked up by Entertainment Weekly: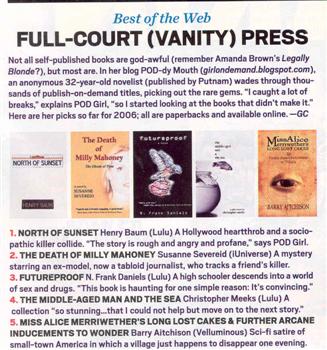 In all, because of that small piece, I think I sold 50 books. Cool, nice, but not earth-shattering. I also got an offer of representation from a high-caliber agent. But that's not even my point. Here I am 5 years later referencing that review, which may cause someone to take a look at that old book. Reviews are accumulative, just as new books are accumulative.
More than that, however, is being a part of the discussion. An interview or review is as much an artform as writing. Here's an interview I did recently, and I'm proud of it. I like what I have to say. Did that interview lead directly to any book sales? Not that I've seen. But I've condensed some of my ideas from the novel, and gotten the word out about some things I believe in. This has value beyond book sales.
Putting too much of an emphasis on marketing is a cousin to saying: if it doesn't sell, it's not worthwhile. This has been the mantra of the traditional publishing industry, and it would be a shame to see this taken on by self-publishers as well. Everything is writing: a review, an interview, a guest post, even a Facebook post. It's all self-expression of some kind. And even if it doesn't lead to direct sales, it's just plainly fun to be a part of the discussion.
A later comment on the "Publicity" post says:
Joe, the crux of your point here is shocking, but absolutely true in my experience. I was on an east coast book tour when I got the opportunity of a lifetime…er, so I thought. I appeared live on national tv: Fox Morning Show with Steve and Gretchen. It was a great segment. The Washington Post did a front page story on me, suggesting that I might be the "Next Harry Potter." Holy SNOT, you'd think my sales would quadruple overnight. Nope. A two day bump in sales is all that happened. I was so frustrated I could barely sleep. I used to think that the press was an excellent way to meet readers.
This is eye-opening, but how many sales did he have for that two-day period? Looking at his books, he has hundreds of reviews, so it looks like he's getting read. I don't really want to single out an individual writer, but have self-publishers gotten greedy, now that they've heard stories of Konrath, Hocking, and Locke making millions? It seems to me that the experience of going on TV should be gratifying in some way. So it didn't lead to permanently heading towards the best-seller list – it still seems like a pretty cool thing to have done.
Maybe writers need to take a step back and revel in all that's available to them, and what's possible. I'm speaking to myself as well because, believe me, I look at my own sales sheet and all the success stories and think, why not me too? But I'm a writer first, marketer second, and I'm proud about what I've written and published, even if it isn't a goldmine. I have faith in what's possible.
So saying something like "All my marketing efforts have been futile" only makes sense if you've landed zero reviews or interviews. But if you're being discussed in some way, this is a start. Ask yourself, does it feel like a book sale when you get a good review even if you're not selling any books? For me, it does: it's fun, it's exciting, even on some blog with 20 hits a day.
For some people writing is purely a business, and so if a book's not selling, it's a failure. That's fine for those people, but I imagine for a majority writing is also about self-expression and conveying ideas. If you're writing, you're doing that even if you sell nothing. So what you're doing has value before money changes hands. We'd all love to sell thousands of books – but if you don't you're not a failure, unless you believe book sales are the only measure of a book's worth. And if that's the case, then there's not a lot of difference between traditional publishing and self-publishing except for the royalty percentage. I don't think that's true, but money isn't everything.