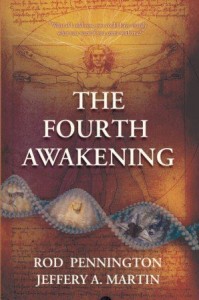 Awakening – an event that has an intense change on humanity. So much so that it hits a 10 on the Rector scale in human evolution. When humans progressed from "hunting and food gathering tribes" to "agricultural homesteaders" – that was an Awakening. While not occurring overnight, an Awakening can take centuries to complete but the effect is dynamic. There have been three Awakenings so far.
Penelope Spence was a Pulitzer Prize winning journalist in her younger days. But she made a choice – to pursue a home and children over a very promising career. Now the kids are grown up and have left home, as did the husband. And she finds herself wondering… what if.
A call from an old friend at the Washington Post presents her with a choice. Shed her "stay at home and kids" life and go after the story of a lifetime; or keep wondering… what if.
We are lead on a roller coaster journey of prisoners who can't be kept in prison, a Nobel Prize winning scientist spouting the fantastic, secret projects, and incredibly well planned and timed events . We are under a tight time line to provide "enlightenment" to the public before it is hushed by the powers that rely on the old world order to keep their highly prized positions. Government agencies, back room deals, and incredible human advancement that defy explanation play important parts to thrust and parry.
I found myself riveted to this story. What a wonderful blend of fiction and science! The science is realistic, the concepts simple enough for anyone to grasp, yet the fiction takes this one step further and we encounter possibilities that are not just plausible; they are believable. The ultimate in a fiction story is to be so realistic it defies the lines between fiction and reality, and the authors have hit this point.
Yes, the science in this book appears to me to be very well researched and includes just enough fact to challenge the reader where the facts end and the fiction begins.
But the story is just as enchanting. The protagonist, Penelope Spence is well worked out. She is a real woman, with real concerns, but isn't one of those screeching, wimpy women. She is the heroine here. She investigates, she asks the tough questions, she takes all the unbelievable with a grain of salt till it is slice, diced, examined and proven. She is real as well. While being a pillar of strength, she has doubts, she has moments of panic. She is a very alive character.
Michael Walker is the perfect mystery man. While we know who he is and what he is doing, we never get to really know him on a personal level. He remains an enigma. As this book is the first in a series, I am sure we will be able to explore this character further in future books, but in this book, he serves a very useful purpose… he is our introduction to the Fourth Awakening. And while we get an idea of what it is and what it will do, we do not fully understand it but we can follow it.
And there are some absolutely wonderful supporting characters that fill in the blanks, are in the right place at the right time but never give you the feeling they were just "stuck" in there. Each character has a purpose and is essential to the story. They are well planned and executed.
There is an original and captivating plot here, there are unexpected twists and turns. Things jump out at us and we are taken by surprise. This is the way a thrilling piece of fiction should behave. We can understand the concepts, we can even find them plausible, but we also want to be taken into the story and be in the "back seat" as the characters play their parts in the game. We want to be surprised, and we are. The authors have done a fantastic job of leading the reader right to where they want us to go.
I am taken by this excellent piece of fiction. And it is worth five stars on its own.
To be fair, I also looked at the entire package. Cover art is very well done, and shows nicely in a black and white format. I am not keen on the praise pages being put up front of the book, but that is just me. The formatting is flawless, very professional, and I have to say I did not once notice a spelling error or bad grammar or such that is usual with these kinds of files. Not that there couldn't be any, but I didn't notice. So, bravo for a very well delivered product!
So, not having anything wrong with the product itself and being as how this story had me glued to the chair to read it, I will give this 5 out of 5 stars and a note to look for the second book in the series to get into as soon as I can. Thanks to the authors Rod Pennington and Jeffery A. Martin for a masterpiece of science and thriller.
Links