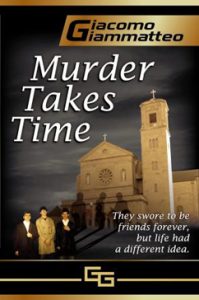 What would you do if you thought one of your two best friends from childhood was wanted for murder and you were the cop in charge of the investigation?  Would you be able to put your feelings aside and do your job?  In Giacomo Giammatteo's debut novel, Murder Takes Time, he explores the power of friendship and honor.
Right from the start, the reader is thrown into the bloody world of mobsters.  The opening pages depict a horrific killing.  The murder scene is not for the faint-hearted.  At first I was uncomfortable.  But fear not, this is not a novel that centers primarily on acts of violence.  Giammatteo switches gears deftly and tells the story of how we ended up at the murder scene.
Nicky "the Rat" Fusco, Tony "the Brain" Sannullo, and Frankie "Bugs" Donovan are best friends in Wilmington, Delaware.   During their younger years they rely on each other to survive.  They are bound by a code of friendship and honor that they swear to uphold forever.  This code is challenged when Nicky rushes to a gang fight that Frankie and Tony are involved in.  Nicky gets a tip that the other gang is bringing a gun.  He enters the fray and saves Frankie's life by shooting two members of the rival gang.  He ends up in prison for ten years.
While Nicky is in prison, Frankie and Tony both move to New York City.  Frankie joins the police force and becomes a homicide detective.  Tony embroils himself into the mob world.  When Nicky gets out of prison he learns that the woman he loves has married another man and now has a child.  There is nothing left for him in Delaware so he moves to New York City.  He believes that if he can make it big he can go back and impress his former sweetheart.   However, making it big as an ex-con is no easy feat.  He turns to what he believes is his only logical solution: Tony and the mob.
The mafia and murder go hand in hand.   Soon Frankie is involved investigating a string of mob killings and all of the clues lead back to either Tony or Nicky.  Frankie is torn between the code and doing his job.  The closer he gets to the answer the more he fears what he will have to do.  He has to decide: is he a cop or a gangster?
The story switches back and forth between Frankie's battle with his sense of duty as he investigates the murders and Nicky's recollection of his childhood and his bond with Frankie and Tony.  As I mentioned above I was fearful that this novel would lack any depth after reading about one of the grisly murders.  My fears were soon soothed and I began to appreciate the exploration of the characters to figure out how they all ended up in their own predicaments.
Giammatteo takes his crime novel to a new level and makes the reader feel for the murderer and the cop tracking him down.  As is so often the case in life, nothing is black and white.  The author explores the shade of grey and puts the characters through the wringer so the reader knows each one intimately.  Don't fret though, if you are looking for a fast-paced novel with plenty of action, you will not be disappointed.  I thoroughly enjoyed Giammatteo's first novel and I look forward to reading more works by him.  I give Murder Takes Time: Book 1 in the Friendship & Honor Series five stars out of five.
Links