Boyd Morrison fits no easy stereotypes for a novelist. With a BS degree in mechanical engineering from Rice University, he first worked for Lockheed and NASA on a space station and other projects. He returned to grad school to earn a Ph.D. in industrial engineering at Virginia Tech. His specialty in ergonomics led him to work on electronic program guides for TVs and digital satellite systems at RCA. When his wife, in becoming a physician, secured her residency in Washington State, Morrison found a dream job working at Microsoft in the Xbox division, helping create games. Handsome with piercing blue eyes, he also became a professional actor, appearing in commercials, stage plays, and films.
He also loved writing action novels in the vein of Clive Cussler, Dan Brown, and James Rollins. In 2009, with an agent who loved his archeological thriller The Ark, Morrison and his agent found a number of editors at major publishing companies who loved his novel but felt in essence the market was oversaturated with his kind of book. With the blessing of his agent, he uploaded The Ark and two other unpublished novels to Kindle, and within three months was selling more than four thousand copies combined of his books per month.
That grabbed the attention of an editor at Simon and Schuster, who gave him a four-book deal, and The Ark was released in May 2010 in hardcover, eBook, and audio formats. It made several bestseller lists in the U.S. and a top-15 bestseller in the UK. His next three books did well, too, and have been translated into twenty languages. Then this year, Simon and Schuster dropped him with little explanation. Rather than be adrift, he went back to his roots in self-publishing. He still has publishers in other countries.
Boyd was kind to chat with me a few years ago when his book The Ark had moved from Kindle to Simon and Schuster, and I'd been interested in why he hadn't a print version of The Ark before this. After all, places like Lulu, Createspace, and iUniverse made that easy. He'd explained then that with no print version, just eBook, the big publishers had not considered the book published. Thus The Ark came out as a big fresh first novel.
When I'd brought out my first short story collection in January of 2006, eBooks were not talked about at all. Kindles were introduced a year later in 2007 and they then cost $395. Print-on-demand was the thing in 2006, and so my short story collection The Middle-Aged Man and the Sea came out as a POD book—which was really before traditional media even caught onto what POD was. The first review of that book was in the Los Angeles Times, and then Entertainment Weekly went onto to talk about it.
Now big newspaper and magazine reviewers don't really consider anything unless it comes from a traditional publishing house. That's okay because literary websites and bloggers do the bulk of reviewing, and a lot of marketing is done by word-of-mouth and social media.
Things are changing rapidly, though, as Morrison wrote about well in a recent Huffington Post piece. As he explains in that article, he's going back to self-publishing for his newest book, The Roswell Conspiracy. There are few better people who can explain today's state of publishing than him.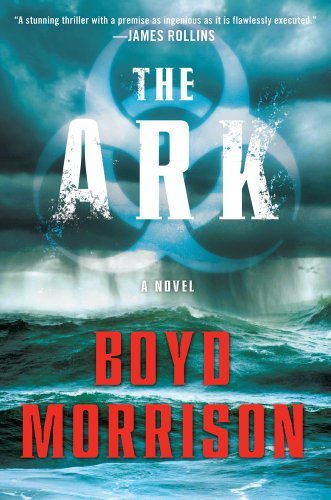 Christopher Meeks: I just went on Amazon and saw that people can buy print versions of The Roswell Conspiracy, which is being printed in other countries by other publishers. Do you plan to offer a print version using Lightning Source or some print-on-demand company?
Boyd Morrison: The great thing about being with Little, Brown UK is that there is already a beautiful print version of The Roswell Conspiracy. I don't have any plans to create a POD version here unless it becomes too difficult for readers in the U.S. and Canada to find copies of the British version. Several indie bookstores here are ordering copies from Great Britain, including Mystery Mike's.
CM: What are your hopes for The Roswell Conspiracy and how does this affect your relationship with your agent? What are her hopes and your hopes for your career in the next two years?
BM: Although The Roswell Conspiracy is self-published here, it is being traditionally published by Little, Brown in the UK, by Random House in Germany, and by Audible as an audiobook in North America. Therefore, my agent, Irene Goodman, would be just as happy as I am if the book were to become a hit. She has high hopes for my career in the long run, and we both realize this is a marathon, not a sprint.
For both self-published and traditionally published authors, I think the biggest contributor to success is having a substantial body of work for readers to discover you. Harlan Coben, Tess Gerritsen, Michael Connelly, and Lisa Gardner didn't become huge successes until they had seven to nine books out there, and you'll notice that Amanda Hocking and John Locke had a similar number of books for readers to find when they broke out. So I just want to continue to produce books that entertain my readers. If I can do that, I will be happy with my writing career.
CM: I happened to be at two conferences earlier this year, the AWP, where writers and writing instructors talk about craft and publishing, and the ALA, where publishers and librarians meet. One thing struck me about both: the awards and discussions still cover traditional publishing. There really still is barbed wire between traditional publishing and self-publishing. How do you see the two camps, and where are things going?
BM: Getting back into self-publishing makes me realize that there really is a lot of work that goes into making a quality book available to readers. Luckily I have a great team at Little, Brown UK that does a fantastic job with editing, copyediting, and cover design, so all of that was done when I went to self-publish The Roswell Conspiracy here in the U.S.
Most writers don't have that luxury and have to pay up-front for those tasks, in addition to formatting the book for sale if you're not familiar with eBook production. So instead of relying on an advance from a publisher, self-published authors have to pay out of pocket in the hopes of recouping their investment down the road. It's really about the burden of risk; self-publishers take on that financial risk with a higher per-book benefit in the future, while traditional publishers take on that risk and get a larger cut of the royalty pie.
Book publishing is a fast-mutating creature, and I think there will be a place for both self-publishing and traditional publishing in the future. Traditional publishing can put real marketing muscle behind a book, which is what happened when Fifty Shades of Grey went from a self-published hit to a published cultural phenomenon. But without self-publishing, Fifty Shades of Grey might never have reached any readers at all.
Successful self-publishing takes an unusual combination of writing ability, business acumen, marketing savvy, and technical prowess that most authors would find difficult to master. For those who may not be able to—or simply don't desire to—obtain all those skills, traditional publishers will be around to provide their services.
CM: I happened to interview Darcie Chan before her literary novel The Mill River Recluse sold so well as an eBook last year—the #4 best-seller of all books in the nation last year—and while she did get a traditional publisher sign her, the publisher is publishing her novel in England and elsewhere, but not in America. Her next book will be published in America. Why are big publishers reluctant to market in America unless they think the numbers will be huge? In other words, do you understand the thinking about why you were dropped?
BM: Occasionally, there will be a singular success like Darcie's, which was well-deserved. I believe she sold over 600,000 copies of The Mill River Recluse, so publishers may have felt that the market had already been tapped out. Or they might have thought she wouldn't have the same success with a $15 trade paperback that she did with a $0.99 eBook.
Again, it's about risk. For a publisher to go out with a book in a big way, they're probably risking hundreds of thousands of dollars. If the book tanks, the publisher takes a bath because of the sunk costs and returned books. And if they go out with a book in a small way, they still have all the same costs in producing the book—editing, copyediting, cover art, book design, etc.—that a big book would get, so it may simply not be worth the effort.
But I do think it takes time to nurture an author's career and therefore requires a longer-term investment. As I noted above, it may take eight or nine books for an author to really break out, so for Simon and Schuster to drop me after publishing four books with them in the span of eighteen months—and before the paperback of The Vault was even released—was puzzling to me. They never sent me any editorial notes about The Roswell Conspiracy, which leaves me in the dark as to what they objected to in the book and makes it impossible for me to assess their business rationale for canceling it.
CM: So many new writers think that self-publishing is a sure way to riches and fame that I ended up writing a piece called "Ten Simple Things for Becoming Rich-Rich-Rich in Self-Publishing." What do you recommend writers do if they decide to self-publish? What are the hazards or pitfalls of self-publishing that you're trying to avoid?
BM: I'd recommend that you make sure your book is indistinguishable from a traditionally published book in terms of quality and execution. Spend the time and/or money on good editing, copyediting, cover art, and formatting. Share it with trusted friends and family who will give their honest opinions about the book. If you get several people telling you it's not ready, go back and figure out how to fix the problems. If they seem insurmountable, go on to the next book. There's no shame in having a project that never sees the light of day because you learn more on every book you produce.
But if you put a book out there that isn't ready, provides an unsatisfying experience for the reader, is full of typos, or looks amateurish, it may be hard to convince readers to try out your next book when it is ready. My goal is to always be proud of the book I release to the world.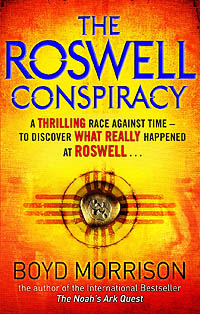 CM: Where do you get your ideas from, and what do you like about the thriller genre? In particular, where did you get the idea for The Roswell Conspiracy, and how do you describe the book?
BM: I'm a news junkie, I read a lot of technical magazines, and I love nonfiction and historical documentaries. Every once in a while, I'll run across an article or TV show or book that gives me that little nudge to ask what if. And I love the edge-of-your-seat suspense that you get in a good thriller, the all-consuming urge to find out what happens next.
For The Roswell Conspiracy, I've always been fascinated by UFOs and tales of alien visitation, but I'm also a skeptic at heart, so I continually play devil's advocate with myself. The famous Roswell incident has been at the heart of many UFO conspiracy theories, so I wanted to come up with my own version.
The Roswell Conspiracy is the third book in the Tyler Locke series about a swashbuckling former Army combat engineer who keeps getting sucked into adventures revolving around a well-known historical mystery. In The Roswell Conspiracy, Tyler must uncover the baffling link between the Roswell incident, the Tunguska blast, and the Nazca lines to prevent a rogue Russian spy from unleashing electronic Armageddon on the United States.
CM: Despite all the crazy twists you've experienced in publishing, how do you keep that and getting too involved in the internet at bay in order to write? How do you manage to focus on writing?
BM: I have to admit it's tough at times, but having a deadline works wonders on your focus. After I've done enough research for the story's background, I do set a schedule for myself, usually about a chapter a day when I'm in the thick of writing.
CM: What two or three writers in particular have inspired you and what have you learned from their writing?
BM: Clive Cussler is the author who got me interested in reading and writing thrillers in the first place. There's no one better at pacing, action, and sense of adventure. Michael Crichton was a master at infusing believable advanced science concepts into his thrillers. And Stephen King can't be beat for creating rich atmosphere and emotional connection with characters.
CM: In your Huffington Post piece, you said Simon and Schuster found your manuscript unacceptable because it needed "too much work" and demanded the advance back. First, did you have the advance to give back, and, second, how have you reconciled your English publisher loving it and your American publisher not? Do you see S&S's action as a financial decision or an aesthetic one?
BM: I don't want to go into more detail about the financial dealings with Simon and Schuster, but I think I'll be fine in the long run. Without editorial notes to refer to, I can't explain why S&S found the manuscript unacceptable while Little, Brown, Random House, and Audible all thought The Roswell Conspiracy was worthy of publication. As with many other authors' publishing contracts, all S&S had to do was deem the manuscript unacceptable. Any speculation I could make as to their reasoning would be just that.
CM: How will you market The Roswell Conspiracy? How important are reviews? What have been the two or three best marketing things for you in particular? I ask, because originally writing on Kindleboards was a big one, but now those messages disappear as fast as tweets with so many people hustling their own books.
BM: To launch The Roswell Conspiracy, I participated in the Nook First program. In return for four weeks of exclusivity, before it is published anywhere else as an eBook, the book is featured by Barnes and Noble for two weeks on its website and email newsletters. We had a very successful run during the month, including reaching a ranking of #14 overall in the Nook store. In those four weeks we sold more copies of The Roswell Conspiracy in eBook format just on the Nook than The Vault eBook sold in a year across all stores.
Social media is a good way to stay in touch with readers who are already fans, but it's not a great way to find new readers. The best thing you can do to market your book is to write a book that markets itself. When I was first self-published, it was word-of-mouth recommendations on forums like Kindleboards, Mobileread, and Amazon that propelled my books onto bestseller lists. I didn't originate those threads on forums, but I did introduce myself on them. Readers felt they were getting exciting books at a good price and recommended them to others.
If you look at the self-publishing hits like The Mill River Recluse, Wool, and On The Island, very little author marketing and promotion went into making them successful. There's always a bit of luck involved, but when that luck came, those books struck a chord with readers who started telling others about them, and the sales snowballed from there.
The second best thing you can do is write the next book.