"With great power comes great responsibility."
If you are new to the Lendink story, here's the lowdown. A website that lends out ebooks was shut down by a gaggle of indie writers who thought this was an example of piracy no different than Napster. Really, it's totally legitimate, as lending ebooks is part of publishing on the Kindle. Books aren't downloaded, they're lent for a set period and the writer gets paid. In short, it has nothing in common with Napster.
It's understandable if writers are a little twitchy about piracy. It also makes sense that people like being attached to a cause. But if you're participating in the act of shutting down someone's business and livelihood, you better be absolutely certain you're in the right and you're not just running on gut feeling.
The moral of the Lendink story is that self-publishers are proving nay-sayers right. Publishing is hard – people who work in traditional publishing have business degrees. They've been to law school. They have masters degrees. You wouldn't think that you could jump into running a retail store without some business acumen, but that is exactly what self-publishers are doing by becoming self-publishers.
This sounds like a screed against self-publishing, but it's not. Self-publishing is great for the power it puts in writers' hands, but with so many individuals suddenly having the power of a corporation – something that has a legal department – then problems like this are going to arise.
I don't like getting political here because self-publishing caters to all types of political stripes. Whatever your political affiliation, you have to agree that the message in this sign is wrong: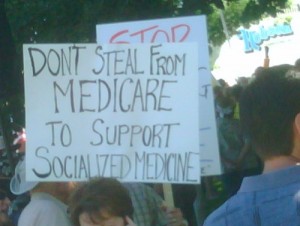 It's fine if someone doesn't entirely understand how Medicare works. What's problematic is when they turn this ignorance into activism. And that's exactly what's happened with Lendink. If you're taking the time to write a protest sign (in this case: a tweet) with misinformation then you're a greater problem than the thing you're protesting. I don't love singling out a writer, but this is the level of discourse about this issue:
LendInk.com, or rather the person behind the website was using and hosting my cover photos. Without permission. This was confirmed to me by their webhost after Amazon sent me their way. They may have been "linked" to Amazon's book file(clever), but their photos weren't(not so much).
"Hosting" photos? So every blogger who writes about your book needs permission before posting your book cover? Every time your book cover is splashed somewhere, this is free publicity. Why this would upset someone is beyond frustrating.
This whole story is like burning down a library for lending books. It makes no sense at all. So please, self-publishers, think before you speak. It's written over and over again that self-publishers need to hire an editor before publishing a book. Once this is done, self-publishers also need to act professionally in every other avenue as well. Many people in the publishing industry think self-publishers are dumb. Don't prove them right.