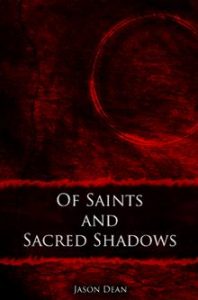 Every one warned her. All of them said that she should not look for Sebastian Sane. No one could tell Lina who or what Sebastian was exactly. But they all said to stay away. If she valued her life, don't try to find him. If she did find him, she should never trust him. Lina, though, wasn't the type to scare easily. Would her stubbornness get her killed?
Jason Dean's novel, Of Saints and Sacred Shadows, is a mesmerizing story that involves angels, demons, vampires, witches, police detectives, heinous crimes, and so much more. When Detective Richardson starts his investigation into murders at a house that has been nicknamed the Butcher House by the police, he knows he needs help solving the atrocious crimes. He calls Sebastian. Who is Sebastian Sane? "He didn't look at all dangerous, dreary or even remotely menacing; Sebastian was never what anyone expected, which was, perhaps, one of the things people found so unsettling about him." He may not be what people imagined, but he knew more than his image let on. Somehow, he knew things that no human could know. Many think he's clairvoyant. Detective Richardson doesn't believe in psychics, but he believes that Sebastian is different from anyone he's ever known. He also knows that if Sebastian wants to, he can help. However, Sebastian doesn't necessarily volunteer his services and working with him is difficult since he won't answer direct questions. He's never taken money from the police to aid investigations and he's never accepted reward money. If he feels like it, he'll help.
When Detective Richardson's goddaughter, Lina, is called in to help the lone survivor of the Butcher House, she soon finds out that the survivor won't talk to anyone. Then she learns that at the crime scene Sebastian was able to calm her down. Lina doesn't know Sebastian, but once she learns that he can help, she won't stop looking for him. She doesn't want the survivor to fall through the cracks like so many others in society. Lina doesn't trust the system. She quit the police force since it didn't treat people like people. Lina has a heart of gold and a determination to help those who others have forgotten about. Even if it means risking her own life.
What Detective Richardson and Lina don't know is that Sebastian is the last Sentinel. The crimes at the Butcher House are an attempt to kill him. Lina's determination to get Sebastian's help embroils her into a conspiracy that involves hellish scenarios that many people wouldn't be able to survive. To complicate matters, Sebastian is growing weary of his own existence. Is it time to go after 2000 years? If he does, will the world be able to survive the Sentinel's destruction? He balances the good and evil in the world. Would evil prevail?
Dean's novel adds unconventional twists to the good v evil story. Using history, myths, and imagination he creates a world that sucked me in and kept me wanting more. His twists and turns kept me glued to the book and I lost sleep staying up past my bedtime reading. In addition, it gave me some nightmares. Shouldn't all horror novels do that?
While I enjoyed this novel, I do have some criticisms that I feel obligated to share. It would behoove the author to proofread his novel further. I found several typos that were easy enough to push aside since I was enthralled with the story, but they weren't invisible. Also, he would learn much from William Strunk Jr. and his advice to omit needless words. On many occasions I found Dean wordy. For a story that involves action and suspense, being too descriptive disrupts the rhythm of the story. Furthermore, a few of the characters that played a prominent role in the beginning of the novel disappear completely. Did Dean forget about them, or will he continue the story and continue their stories?
I would like to add one thing, please Jason Dean continue writing. It doesn't even have to be a continuation of this story, even though I would love to read more about Sebastian Sane. He has a fresh way of adding dimensions to traditional stories and concepts. This is a writer to keep an eye on. I give his novel 4 out of 5 stars.
Links