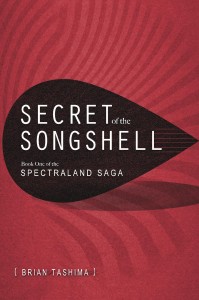 When you pick up a fantasy genre book for teenagers, you expect Tolkeinesque trekking through rocks and meeting strange hybrid creatures, right? You expect lengthy descriptions of mountains, tunnels and pathways, yes? You expect charm, betrayal, adventure and friendship across species and a hero with the odds against him, don't you? You get all of this in the first volume of this Saga by Hawaiian author Brian Tashima, but he adds some extra ingredients to make his writing unique.
Firstly, the touch of his Hawaiian culture comes through: There is a laid back, grass roots way that Tashima writes that stir the imagination: whimsy, belief, an understanding of nature and go-to attitude in spoonfuls. As does his background playing in bands: the story starts in a guitar shop where we meet our hero Joel Suzuki. But Joel is no ordinary boy – he has Asperger's Syndrome and is recovering from his parents' divorce with his little sister after a move to the mainland from Hawaii. Having spectrum differences means Joel has trouble fitting in, but he does have a job at Art's guitar store, where Art, a sage rocker, gives him advice in the form of rock star quotes, which true to form, Oz like, prove to be uncannily useful later on.
But the tale morphs into a fantasy adventure when Marshall Byle, lead singer of Joel's favourite band Biledriver goes missing, and Joel is magically transported to Spectraland after bumping into his supposedly AWOL hero on the street: Byle reveals he wants to show Joel how to become a rockstar, and with another 'spectrally challenged' student, Felicity, they plunge into a world of vibrating colours (spectrums) and sounds, called Aura, to be played on Wavebows, legendary instruments that can produce sounds to make things happen, called 'casts'. And Joel's brainwaves are just that unusual that he finds he has special powers in this new land: he has The Sight.
This book is written for Tashima's son who has Asperger's, and maybe because it was specifically crafted there are some real details that stand out. The descriptions of how teenagers with Asperger's relate to the world and how others react to them are well written and do two things: educate on how it is to have a spectrum difference , or encourage those readers with Asperger's or similar to relate to Joel.
The idea of a missing rock star befriending his fans is attractive and will entice young readers, with the magic around music and sound waves based on informed research and knowledge.
The landscapes are like it or hate it, an arduous journey in themselves, but this is a book that knows its place in the vein of fantasy adventure and fans of Tolkein, Stephen R Donaldson or Steven Erikson will love it, as will they love the many hybrid beasts the adventurers meet on their way to defeat the enemy, the monstrous Chief  Fourfoot, who could destroy the land if the travelers don't get their hands on the Songshell,  a magical shell that could destroy everything in the wrong hands: of course, it is miles away and time is of the essence!
The use of classic imagery and tale telling structure is present, with lots of rich wordplay and updating to traditional themes: a volcano, a giant spider, a funny mascot, unexpected friends and a native tribe all sew the plot together as familiar motifs to produce a story that is easy to enjoy.
The book is slightly more upbeat than many in this genre, and that makes for a sometimes humorous read. This book is suitable for teenagers who like to read; it's a long book for this age group but there is a lot to like here and it will find those who are charmed enough to wait for the next installment in the saga.
Links